Star trail centered on the North Star.
TrueNorth is a boutique investment bank founded in 2009 by a group of senior bankers to provide a full complement of middle-market financial advisory services. Like the North Star — the ageless beacon giving guidance to navigators in search of true north — our firm is dedicated to providing clear, unwavering, and accurate guidance. TrueNorth's bankers have completed hundreds of M&A, capital-raising, and restructuring transactions across a broad range of industries. We bring to every assignment a unique combination of attributes: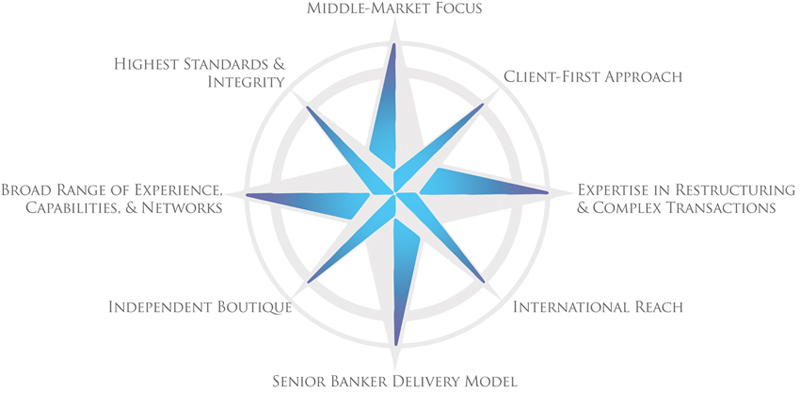 Middle-Market Focus – TrueNorth provides advisory services to companies seeking advice for middle-market M&A and financing transactions. Our focus on the middle-market, which typically involves businesses generating operating cash flow (i.e., EBITDA) of $3 million and higher, enables us to provide independent, value-added advisory services to privately held companies and corporate clients, both domestic and international, across a broad range of industries.
Client-First Approach – We are relationship-oriented bankers. We seek to be our clients' partners in achieving their strategic as well as transactional objectives and goals. Preceding each transaction process, we dig deep to understand our clients' business, niche, and competitive environments. Once in the M&A or financing marketplace, we are well-prepared, convey professionalism, and perform to the highest standards in advising and representing our clients.
Expertise in Restructuring & Complex Transactions – In addition to their M&A and financing transaction experiences, TrueNorth's founders bring with them extensive restructuring expertise. Not only does this expertise differentiate TrueNorth from other investment banking boutiques, but it gives our firm the confidence, experience, and creativity to successfully complete the most complex transactions outside of the restructuring realm.
International Reach – TrueNorth's bankers have substantial experience during their careers in completing cross-border transactions involving European, Asian, Latin & South American, and Middle-Eastern counterparties. In part, this global reach is due to the Wall Street and other investment banking relationships and transaction experiences of TrueNorth's bankers. Indeed, one of our senior bankers is a native of Japan and is focused on creating cross-border markets and transactions with Japanese counterparties. Creating global markets for middle-market transactions enables our clients to create additional options and alternatives and thereby lead to maximizing shareholder value.
Senior Banker Delivery Model – TrueNorth's top-heavy organizational structure is by design to help ensure that our clients receive extensive senior banker attention throughout all phases of a transaction. There is no substitute for experience in creating a strong market reception for middle-market
companies and in our providing value-added services to TrueNorth clients. Rather than delegating time-consuming responsibilities to junior bankers, our senior bankers are our clients' partners, and are on point from day one though the successful completion of the transaction.
Independent Boutique – As an independent investment banking boutique, we are free from conflicts of interest and are focused on the markets that are of crucial importance to our client base. Our client-first approach is based upon the objective of maximizing shareholder value for our clients in completing middle-market transactions, regardless of the counterparties to our clients' transactions. Also, as we are not dependent on any one industry, we don't curry favor from industry insiders' which often are counterparties to middle-market transactions.
Broad Range of Experience, Capabilities & Networks – Our senior professionals have completed more than 500 financial advisory assignments in their careers, including many cross-border, restructuring, and other complex transactions. Our backgrounds vary from major Wall Street firms to Big Four accounting firms, but we all have extensive middle-market investment banking experience. And, with senior bankers based in the Northeast, Midwest, and Southeast regions of the country, our geographic contact networks are diverse and extensive, enabling us to maximize national market interest for the benefit of our clients' transactions. Consequently, when we address an opportunity or issue for a client, we do so based on broad reach, experience, and wisdom.
Highest Standards & Integrity – TrueNorth's past and future success is a direct function of our integrity. Our guidance and recommendations are based on sound research, experience, and market intelligence. TrueNorth senior bankers don't over-promise and don't hand-off transaction responsibilities to junior bankers. Our client-first approach demands that we perform to the highest standards. Thus, as our clients' representative in the marketplace, we seek to establish an image of professionalism and credibility for our client and its management team. Going forward, we know that while first impressions count, leadership persistent follow-through, and integrity are crucial to completing successful transactions. These qualities are directly tied to TrueNorth's senior banker delivery model, independence from conflicts, and our collective professional and transactional experiences.