TrueNorth Advises Theis Precision Steel on New Debt Facility
Norwalk, Connecticut, February, 2010 – TrueNorth Capital Partners LLC, a corporate advisory and restructuring firm serving the middle market, announced the successful arrangement of a new debt facility for Theis Precision Steel Corporation ("Theis"). Theis is the U.S. subsidiary of Freidr. Gustav Theis Kaltwalzwerke GmbH, a German based multinational stainless and carbon alloy steel business.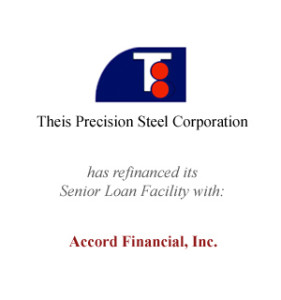 Theis and its parent company are one of the largest global providers of cold-rolled precision strip steels. With ten locations in the Americas, Europe and Asia, the Theis Group provides the highest quality precision steel product to global and local customers in the saw and tool products, automotive, medical, stamping and building products industries. Originally established in 1910 in Germany, the Theis Group expanded into the U.S. in the mid-1980s and now produces stainless and carbon alloy products on narrow-width and wide-width mills. As a specialist in precision strip, Theis performs a full complement of services, including rolling and hardening and tempering of high carbon and alloy strip steels, cold rolling of all stainless and nickel alloys and hardening and tempering of stainless martensitic chromium steels.
TrueNorth Capital Partners worked closely with the management team of the Theis Group as exclusive financial advisor on the transaction, and was responsible for the origination, structuring and negotiation of the new loan facility. This senior loan has refinanced all existing working capital and term debt, and positions the Company for a profitable, self-sustaining and competitive future. Michael Baisley, Managing Director of TrueNorth Capital Partners, commented "The steel industry has undergone significant change over the last 18 months and a number of our clients have been impacted by the unprecedented slow-down in orders in 2009. However, the industry is demonstrating signs of recovery and we are very pleased to have helped Theis refinance their indebtedness with a strong partner that is interested in supporting their continued growth."
TrueNorth provides corporate advisory services on mergers and acquisitions and restructurings and provides valuations and fairness opinions primarily to middle market companies. Our professionals have completed over 25 transactions in the metals and steel industry and have deep relationships with corporates, private-equity firms and lending institutions in this industry. TrueNorth's professionals have built their careers and reputations serving this market and understanding its intricacies. Their skills have been evidenced in hundreds of assignments and they have completed those assignments while always remaining true to their core principles: unwavering commitment to the client's best interests and the highest standard of service.
For further information visit our website at www.truenorthcp.com or for questions regarding the above transaction or to learn more about our extensive steel industry expertise, please contact Michael D. Baisley at:
TrueNorth Capital Partners LLC
40 Richards Avenue
Third Floor, Suite 309
Norwalk, CT 06854
203-604-2007