TrueNorth Advises on Sale of Whyco Finishing Technology, LLC
Norwalk, Connecticut, March, 2010 – TrueNorth Capital Partners LLC is pleased to announce that it has acted as exclusive financial advisor to the Official Committee of Unsecured Creditors ("Committee") of Whyco Finishing Technology, LLC ("Whyco" or the "Company"). The Committee, acting as the authorized representative of the Company, conducted the sale pursuant to Section 363 of the US Bankruptcy Code.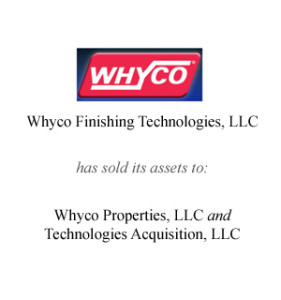 On December 8, 2008, Whyco filed a voluntary petition for relief under Chapter 11 of the Bankruptcy Code in United States Bankruptcy Court for the Eastern District of Michigan. The Company is engaged in the metal finishing business with a focus on functional chromium plating, and provides specialty plating services to a variety of industries, including automotive, aerospace, and medical. The Company has three wholly-owned subsidiaries and operations in Connecticut, Michigan, and China. Whyco's principal manufacturing operations are in the United States and its corporate headquarters is in Detroit, Michigan.
TrueNorth was initially retained as financial advisor to provide valuation and restructuring advice. Its role was later expanded to include finding a buyer for the assets of Whyco on a going concern basis. "We are pleased to have been able to play such a significant role in delivering a successful conclusion for Whyco" noted Jeffrey Gaynor, Managing Director at TrueNorth. Mr. Gaynor added that "we are happy to see a valuable manufacturing business and a number of jobs survive in this difficult operating environment".
TrueNorth provides merger and acquisition advice, restructuring advice, valuations and fairness opinions to middle market companies. Capitalizing on the international M&A and restructuring backgrounds of the founders, the firm delivers sophisticated financial advice from experienced senior management to clients in an underserved market. TrueNorth's professionals have built their careers and reputations serving this market and understanding its intricacies. Their skills have been evidenced in hundreds of assignments and they have completed those assignments while always remaining true to their core principles: unwavering commitment to the client's best interests and the highest standard of service.
As a firm, we look forward to assisting our clients in these challenging times. For further information visit our website at www.truenorthcp.com or contact:
TrueNorth Capital Partners LLC
40 Richards Avenue
Third Floor, Suite 309
Norwalk, CT 06854
203-604-2007
Jeffrey B. Gaynor – jgaynor@truenorthcp.com