TrueNorth Advises on §363 Sale of H. Krevit
Stamford, CT, March 2016 –TrueNorth Capital Partners LLC ("TrueNorth") through its wholly owned subsidiary, TNCP, LLC, acted as exclusive financial advisor to H. Krevit and Company, Incorporated and its affiliates ("Krevit") in the sale of substantially all of its assets to AJM Industries, LLC ("AJM").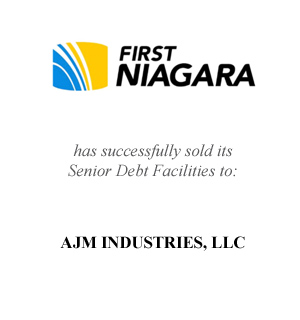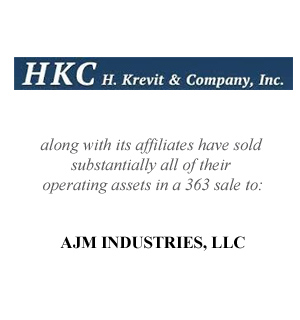 Krevit was struggling with a liquidity crisis caused by delays in bringing a new manufacturing plant on line. Krevit determined that a sale was the best option and retained TrueNorth as financial advisor. The transaction was handled in two steps. First, TrueNorth assisted with the sale of Krevit's Senior Secured and Mortgage Notes to AJM by First Niagara Bank, NA. After Krevit filed for Chapter 11 bankruptcy protection, TrueNorth conducted an extensive auction process for the sale of Krevit. AJM was the stalking horse bidder and ultimately the successful acquirer pursuant to §363 of the US Bankruptcy Code.
TrueNorth was pleased that, in finding a buyer, Krevit will remain a viable Connecticut-based company and retain nearly all of its current employees.
About TrueNorth Capital Partners LLC
TrueNorth Capital Partners LLC (www.truenorthcp.com) provides corporate advisory services on mergers and acquisitions and restructurings as well as provides valuations primarily to middle market companies. Capitalizing on the vast international M&A and restructuring backgrounds of the founders, the firm provides sophisticated financial advice to middle market clients. TrueNorth's professionals have built their careers and reputations serving this market and understanding its intricacies. Their skills have been evidenced in hundreds of assignments and they have completed those assignments while always remaining true to their core principles: unwavering commitment to our clients' best interests and the highest standard of service. TrueNorth conducts its securities-related business through its wholly owned subsidiary TNCP, LLC, member FINRA/SIPC.
About H. Krevit and Company
Located in New Haven Connecticut, H. Krevit & Company has been manufacturing superior water treatment chemicals such as Sodium Hypochlorite (Bleach) since 1919 – longer than any other company in The United States. Krevit products service water, waste water, swimming pool, and industrial chemical needs throughout the Northeastern United States.
Any further inquiries can be directed to TrueNorth at the contact information provided below:
TrueNorth Capital Partners LLC
9 West Broad Street, Suite 510
Stamford, CT
203.604.2007
www.truenorthcp.com