TrueNorth Advises Unsecured Creditors of Back9Network & Swing By Swing
Stamford, CT, August 2016 –TrueNorth Capital Partners LLC ("TrueNorth") acted as exclusive financial advisor to The Official Committee of Unsecured Creditors of Back9Network, Inc. and Swing By Swing, Inc. (the "Committee").
On December 23, 2015 (the "Petition Date"), Back9Network, Inc. and Swing By Swing, Inc. (the "Debtors"), filed voluntary petitions for relief under Chapter 11 of title 11 of the United States Code, 11 U.S.C. §101 et seq. (the "Bankruptcy Code"), in the United States Bankruptcy Court for the District of Connecticut, Hartford Division (the "Court"). Since the Petition Date, the Debtors continued in possession and management of their businesses and properties as debtors-in-possession pursuant to Bankruptcy Code sections 1107(a) and 1108.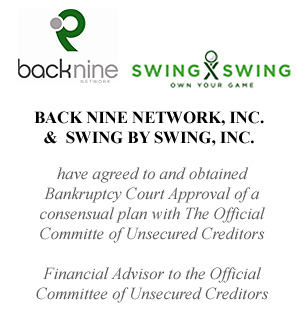 Early in the case, TrueNorth was employed by the Committee to provide financial advisory services including but not limited to: review of Debtors' current and historical financial information, reports, operating budgets, financial projections and Court filings, assisting the Committee on a range of value for the Debtors' on a going concern basis and assisting the Committee in preparing documentation required in connection with creating, supporting or opposing a plan and participating in negotiations with Debtors', on behalf of the Committee. The Committee and the Debtors' reached agreement on a consensual plan which was confirmed by the Court in July 2016.
About TrueNorth Capital Partners LLC:
TrueNorth Capital Partners LLC www.truenorthcp.com provides corporate advisory services on mergers and acquisitions and restructurings as well as provides valuations primarily to middle market companies. Capitalizing on the vast international M&A and restructuring backgrounds of the founders, the firm provides sophisticated financial advice to middle market clients. TrueNorth's professionals have built their careers and reputations serving this market and understanding its intricacies. Their skills have been evidenced in hundreds of assignments and they have completed those assignments while always remaining true to their core principles: unwavering commitment to our clients' best interests and the highest standard of service. TrueNorth conducts its securities-related business through its wholly owned subsidiary TNCP, LLC, member FINRA/SIPC.
Any further inquiries can be directed to TrueNorth at the contact information provided below:
TrueNorth Capital Partners LLC
9 West Broad Street, Suite 510
Stamford, CT
203.604.2007
www.truenorthcp.com