TrueNorth Acts as Exclusive Financial Advisor to Encon in its Sale to Service Logic
Stamford, Connecticut, September 2016 – TrueNorth Capital Partners LLC is pleased to announce that its wholly-owned subsidiary, TNCP, LLC ("TrueNorth") acted as exclusive financial advisor to Environmental Control, Inc. d.b.a Encon, Inc. ("Encon") in its sale to the Service Logic family of HVAC companies, a portfolio company of Sterling Investment Partners. Encon, based in Stratford, CT, is a leading provider of a comprehensive suite of services for the commercial contracting and high-end residential Heating, Ventilation and Air Conditioning ("HVAC") markets. The transaction is both strategic and complementary to Service Logic's existing group of companies now totaling 30 locations across North America, serving 22 states. The transaction was led by Nick Chapman of TrueNorth's Mt. Pleasant, SC office and Dean Miltimore of TrueNorth's Stamford office, both of whom congratulated the management teams from Encon and Service Logic for their hard work and dedication to getting this transaction completed. Encon was also represented by Robert Morris of the legal firm Pullman & Comley LLC.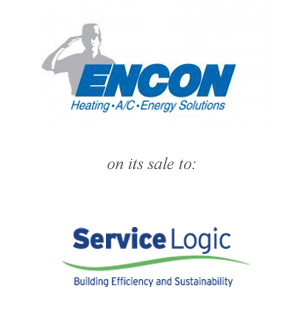 "Encon is a great example of an exceptionally well-managed company that has built a record of providing outstanding service to top drawer clientele, carefully choosing a partnership with a firm that shares similar client-first service and employee development cultures" said Nick Chapman, Managing Director of TrueNorth. "Encon is the latest addition to TrueNorth's resume of providing senior level advisory services to leading lower middle market companies" added Dean Miltimore, a Managing Director at TrueNorth. "Strategic and financial buyers continue to be attracted to business models that deliver critical services with clear value propositions to their customers and market segments."
"Service Logic offers Encon local autonomy while providing access to a larger network of resources to draw from and a partner with geographic and customer diversification. We valued the seasoned and practical advice provided by TrueNorth as we navigated through the positioning and sale of our business" said co-Presidents Chris Douglas and Bill Valus, who continue to manage the business post-transaction.
About TrueNorth Capital Partners LLC
TrueNorth Capital Partners LLC (www.truenorthcp.com) focuses on corporate advisory needs of clients worldwide. Capitalizing on the vast international M&A and restructuring backgrounds of its members, the firm provides sophisticated financial advice to middle market clients. TrueNorth's professionals have built their careers and reputations serving this market and understanding its intricacies. Their skills have been evidenced in hundreds of assignments and they have completed those assignments while always remaining true to their core principles: unwavering commitment to our clients' best interests and the highest standard of service. TrueNorth conducts its securities-related business through its wholly owned subsidiary TNCP, LLC, member FINRA/SIPC.
About Encon
Encon, Inc. (www.goencon.com), based in Stratford, Connecticut, provides a comprehensive suite of services for the commercial contracting and high-end residential HVAC markets. Its services include and focus on designing and building new systems, service and replacement of existing systems and providing control and energy solutions. In the residential sector Encon has a strong franchise in systems for high-end custom homes. In the commercial sector, Encon services a broad range of sectors including business services, healthcare, education, technology, retail, industrial manufacturing and government facilities. Additionally, Encon provides its residential and commercial HVAC customers with specialized building automation control systems and green energy solutions that include geothermal, solar and other energy related technologies.
About Service Logic
Headquartered in Charlotte, North Carolina, Service Logic is a provider of mission-critical services to commercial, industrial and institutional clients for HVAC systems, chilled water systems and building automation and controls and operates through Service Logic's group of companies that total 30 locations across North America, serving 22 different states. Through its certified energy managers, the Company provides a comprehensive suite of solutions to improve the energy efficiency and sustainability of its clients' facilities. Service Logic is a holding of Sterling Investment Partners.
About Sterling Investment Partners
Sterling Investment Partners is a private equity firm that has been investing in and building middle market companies for almost 25 years with a highly experienced, cohesive team of senior investment professionals. Sterling acquires businesses that the firm believes have strong, sustainable competitive advantages and significant opportunities for value creation.
Any further inquiries can be directed to TrueNorth at the contact information provided below:
TrueNorth Capital Partners LLC
9 West Broad Street, Suite 510
Stamford, CT
203.604.2007
www.truenorthcp.com