TrueNorth Acts as Exclusive Advisor to LPI on its Latest Acquisition
Stamford, Connecticut, December 2016 – TrueNorth Capital Partners LLC is pleased to announce that its wholly-owned subsidiary, TNCP, LLC ("TrueNorth") acted as exclusive financial advisor to LPI, Inc. ("LPI") in its acquisition of assets of Vortex Whirlpool Systems, Inc., dba Catalina Spas (www.catalinaswimspas.com).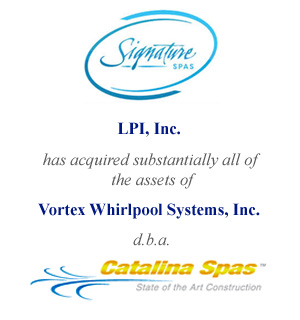 LPI, a Tennessee-based manufacturer of acrylic hot tubs and tanning beds, acquired Catalina Spas, currently headquartered in Perris, California. The purchase is part of LPI's strategic plan to open new channels of distribution and tap into a new customer base by offering a high-end spa brand. Catalina Spas is known as having one of the top 2 swim spas sold in the US and abroad. LPI distributed product through 37 stores nationally and over 100 independent dealers. Catalina will add an additional 130 dealers in the US, Canada and Europe.
"Boyd Cargill has done an amazing job of innovating the spa industry since 1977, and building and managing a leading quality consumer brand," says David Hatley, CEO of LPI. "We are proud and excited to have the opportunity to continue the Catalina brand with the quality and performance it's loyal dealer base has come to expect over the years."
LPI (lpiinc.com) will maintain the Catalina Spas brand and plans to incorporate the Catalina line into its new 320,000 square foot Johnson City, Tennessee facility. "This acquisition is our first of hopefully several as we continue to fill our manufacturing capacity at our new Tennessee facility. TrueNorth has been providing LPI with financial advisory assistance for more than four years. During this time, we have seen our company grow significantly in revenues and profitability", Hatley added.
TrueNorth helped LPI with the negotiation and execution of the Transaction, as well as, in securing short term financing needed to bridge the acquisition.
About TrueNorth Capital Partners LLC
TrueNorth Capital Partners LLC (www.truenorthcp.com) focuses on corporate advisory needs of clients worldwide. Capitalizing on the vast international M&A and restructuring backgrounds of its members, the firm provides sophisticated financial advice to middle market clients. TrueNorth's professionals have built their careers and reputations serving this market and understanding its intricacies. Their skills have been evidenced in hundreds of assignments and they have completed those assignments while always remaining true to their core principles: unwavering commitment to our clients' best interests and the highest standard of service. TrueNorth conducts its securities-related business through its wholly owned subsidiary TNCP, LLC, member FINRA/SIPC.
Any further inquiries can be directed to TrueNorth at the contact information provided below:
TrueNorth Capital Partners LLC
9 West Broad Street, Suite 510
Stamford, CT
203.604.2007
www.truenorthcp.com