TrueNorth Advises Macton Corporation on Refinance of its Junior Debt
Stamford, CT, February 2017 –TrueNorth Capital Partners LLC ("TrueNorth") is pleased to announce that its wholly-owned subsidiary, TNCP, LLC, acted as exclusive financial advisor and placement agent to Macton Corporation in connection with the consolidation of its junior debt and procurement of additional growth capital. Terms of the transaction were not disclosed. Funding was provided by a private investment firm primarily focused on making debt and equity investments in lower middle market companies. Following on the refinance of its senior debt last Fall, this transaction was an important step in providing Macton Corporation with the capital structure necessary to support its growth initiatives. Rob Africk, TrueNorth Managing Director and senior banker to Macton, commented "Macton's offices and manufacturing facilities have remained in Connecticut throughout its entire history, during which time it has developed a reputation for product innovation, lean manufacturing processes and superior customer support to its North American client base."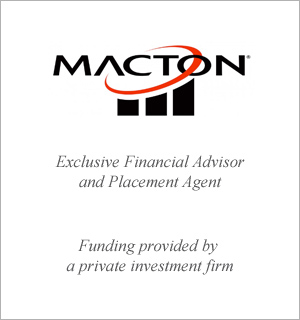 About Macton Corporation:
Macton Corporation (www.macton.com) is a six-decades old privately-held business, located in Oxford, CT, that designs and manufactures large moving structures and equipment for a wide variety of rail transportation, industrial and architectural applications. Products include large rail maintenance, turntable and material handling systems. The Company is owned by Peter McGonagle, its President, who acquired Macton in 2006.
From 140-foot diameter turntables and 75-ton lifts, to 95-ton people movers and 55-ton transporters, Macton Corporation is a leader in the rail shop equipment and commercial turntable markets. Rail shop equipment consists of a wide range of products, which allow rail shop personnel to lift, turn, rotate and otherwise move rail vehicles and truck assemblies for inspection and maintenance purposes. Turntables are used in a wide variety of applications including revolving restaurants, security systems, marine cable laying and truck maneuvering.
About TrueNorth Capital Partners LLC:
TrueNorth Capital Partners LLC (www.truenorthcp.com) provides corporate advisory services on mergers and acquisitions and restructurings as well as provides valuations primarily to middle market companies. Capitalizing on the vast international M&A and restructuring backgrounds of the founders, the firm provides sophisticated financial advice to middle market clients. TrueNorth's professionals have built their careers and reputations serving this market and understanding its intricacies. Their skills have been evidenced in hundreds of assignments and they have completed those assignments while always remaining true to their core principles: unwavering commitment to our clients' best interests and the highest standard of service. TrueNorth conducts its securities-related business through its wholly owned subsidiary TNCP, LLC, member FINRA/SIPC.
Any further inquiries can be directed to TrueNorth at the contact information provided below:
TrueNorth Capital Partners LLC
9 West Broad Street, Suite 510
Stamford, CT
203.604.2007
www.truenorthcp.com