TrueNorth Capital Partners Advises Okubo Gear Co., Ltd. in the Sale of its US-Based Subsidiary Avon Gear Company
Stamford, CT, May 2017 – TrueNorth Capital Partners, LLC ("TrueNorth") acted as the exclusive financial advisor to Okubo Gear Co., Ltd. ("Okubo"), based in Kanagawa, Japan, in the sale of its subsidiary, Avon Gear Company ("Avon" or the "Company"), located in Shelby Township, Michigan. Avon, now doing business as Avon Machining Company, manufactures large diameter, complex, and high-precision transmission and drive-train parts that are sold to heavy equipment OEMs serving primarily the oil & gas, agriculture, construction, and mining end-markets.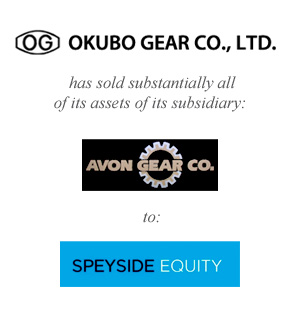 Speyside Equity Fund I LP ("Speyside Equity") acquired the assets of Avon via its newly-formed portfolio company Avon Machining, LLC. Speyside Equity is a private equity buyout firm focused on investment opportunities in manufacturing businesses within the specialty chemicals, food/ingredients, and metal-forming sectors.
Yoshi Togo, a Managing Director for TrueNorth, said of the transaction, "We were pleased to assist Okubo in the sale of its US subsidiary. This transaction demonstrates that TrueNorth is uniquely qualified in assisting its Japanese clients on their cross-border M&A needs."
Bill Jarrett, also a TrueNorth Managing Director, added, "Working with Avon management, and based upon the Company's unique capabilities and world-class customer base, we attracted buyers interest from a broad range of North American strategic and financial buyers."
Matt Korth, President of Avon, remarked, "We are grateful to the TrueNorth team for guiding us through this sale process and finding the right buyer. I am excited for the opportunity to partner with Speyside and embark on a new chapter for Avon. The Company will benefit from Speyside's extensive industry experience and the potential synergies from working with Speyside's other portfolio companies."
Transaction legal advisory services for Okubo and Avon were provided by the Birmingham, Michigan-based firm of Williams, Williams, Rattner & Plunkett, P.C. and for Speyside were provided by the Bridgewater, New Jersey-based firm of Norris, McLaughlin & Marcus, P.A.
About TrueNorth Capital Partners LLC
TrueNorth, with offices in Stamford CT, Minneapolis MN, and Charleston SC, is a boutique investment bank comprised of senior bankers providing a full complement of middle-market financial advisory services. TrueNorth's bankers have completed hundreds of M&A (both sell-side and buy-side), capital-raising, and restructuring transactions across a broad range of industries. TrueNorth is active in cross-border transactions, and works extensively with Japan-based clients.
TrueNorth conducts its securities-related business, which included the Avon transaction, through its wholly owned subsidiary TNCP, a broker-dealer registered with FINRA and SIPC.
Any further inquiries can be directed to TrueNorth at the contact information provided below:
Yoshi Togo, Managing Director
Stamford Office
Direct Dial Phone Number (203) 817.0284
E-mail address: ttogo@truenorthcp.com
Bill Jarrett, Managing Director
Minneapolis Office
Direct Dial Phone Number (612) 808.8630
E-mail address: biarrett@truenorthcp.com