TrueNorth Assisted Mitsui & Co., Ltd. on its Latest Acquisition of Accountable Healthcare Staffing
Stamford, Connecticut, August 2017 – TrueNorth Capital Partners LLC is pleased to announce that its wholly-owned subsidiary, TNCP, LLC ("TrueNorth") assisted Mitsui & Co., Ltd. ("Mitsui") in acquiring 100% of the assets of Accountable Healthcare Staffing, Inc. ("Accountable") www.ahcstaff.com).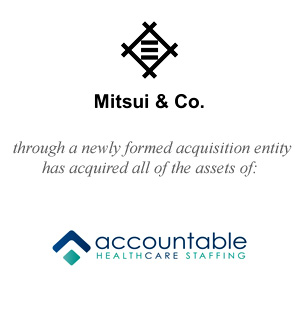 Mitsui identified healthcare as one-of-the key-growth areas to establish their firm's next profit pillar and aim-to-develop a sustainable healthcare ecosystem in the overseas markets. In 2014, Mitsui acquired The Delta Companies, which ranks No. 24 on Staffing Industry Analysts' list of largest healthcare staffing firms in the US and eighth on the list of largest locum tenens firms in the US.
With the acquisition of Accountable, with 28 locations and approximately $143 million in net sales in 2016, Mitsui has created a structure capable of supplying a wide range of human-resource services for healthcare facilities, including physicians, therapists, and nurses, on a temporary or permanent basis throughout the United States.
"TrueNorth displayed a unique ability to approach-and-facilitate discussions with various target companies. Their succinct process for identifying the right group of acquisition targets and facilitating discussions with the owners-of-companies provided Mitsui with a number-of-opportunities. Accountable, however, was positioned as the, "best fit" for our ecosystem of healthcare companies, and represents a strategically compelling opportunity for Mitsui to position itself to provide full suite of healthcare-workforce solutions to our healthcare clients in the US and abroad," said Seiki (Stan) Hirota, chairman of the board, UHS Partners Inc., which is a subsidiary formed by Mitsui.
Accountable Healthcare Staffing is a Boca Raton, Florida-based healthcare-staffing provider that ranks No. 15 on Staffing Industry Analysts' list of the largest healthcare-staffing firms in the United States. Accountable will operate as a wholly-owned subsidiary of Mitsui; the Accountable brand will remain and executives will stay with the firm in their current roles.
About TrueNorth Capital Partners LLC
TrueNorth, with offices in Stamford CT, Minneapolis MN, and Charlotte NC, is a boutique investment bank comprised of senior bankers providing a full complement of middle-market financial advisory services. TrueNorth's bankers have completed hundreds of M&A (both sell-side and buy-side), capital-raising, and restructuring transactions across a broad range of industries. TrueNorth is active in cross-border transactions, and works extensively with Japan-based clients.
TrueNorth conducts its securities-related business, which included the Avon transaction, through its wholly owned subsidiary TNCP, a broker-dealer registered with FINRA and SIPC.
Any further inquiries can be directed to TrueNorth at the contact information provided below:
Yoshi Togo, Managing Director
Stamford, CT Office
Direct Dial Phone Number 203.817.0284
E-mail address: ttogo@truenorthcp.com
Michael Hunter, Managing Director
Stamford, CT Office
Direct Dial Phone Number 203.817.0281
E-mail address: mhunter@truenorthcp.com