TrueNorth Advises MinebeaMitsumi on its Acquisition of C&A Tool
Stamford, CT, September 2017 – TrueNorth Capital Partners LLC is pleased to announce that its wholly-owned subsidiary, TNCP, LLC ("TrueNorth") acted as the exclusive financial advisor to New Hampshire Ball Bearings, Inc. ("NHBB"), its parent NMB (USA) Inc. and its ultimate parent MinebeaMitsumi Inc. ("MinebeaMitsumi") in acquiring 100% of the stock of C&A Tool Engineering, Inc. ("C&A").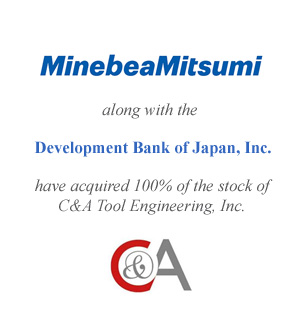 The acquisition was structured as a joint investment of 51% and 49% by MinebeaMitsumi and Development Bank of Japan Inc. (DBJ) respectively. MinebeaMitsumi's acquisition of C&A will allow them to increase their footprint by expanding further into the aerospace and medical markets while simultaneously boosting their machined components business. C&A enhances MinebeaMitsumi's portfolio of machined components with its aptitude for tight tolerances and extreme complexity in manufactured products.
While financial consolidation will take place with MinebeaMitsumi in Japan, C&A will operate under the NHBB/myonic Business Unit and will gain market and customer expertise, as well as global sales reach and expanded resources. With the acquisition of C&A, and previous acquisitions of myonic and CEROBEAR, the NHBB/myonic Business Unit will now operate five manufacturing facilities in the United States, two in Germany, and one in Czech Republic.
Fred Rossetti, a Managing Director at TrueNorth and Lead Banker on this transaction commented that, "it was an honor to represent the MinebeaMitsumi organization on this transaction. There is no doubt that the addition of C&A will greatly enhance both the NHBB/myonic Business Unit and C&A's product offerings and provide direct access and increased penetration to each of their respective customer bases."
Founded in 1969 and employing over 580 people, C&A (www.catool.com) is headquartered in Churubusco, Indiana and has over 700,000 square feet of space in three Indiana facilities. C&A provides customized solutions from design and planning to fabrication and final inspection to top OEM's in their diverse end markets. In addition to custom components for the aerospace, fuel system, and industrial markets, C&A also manufactures surgical implants and instruments for spine, knee, and hip applications. Their early adoption of Additive Manufacturing is a competitive advantage as their backlog in this area continues to grow. C&A is one of the first companies to have their direct metal laser sintering (DMLS) operational process permitted to support customer approved Food and Drug Administration (FDA) products.
MinebeaMitsumi, is a comprehensive precision components manufacturer with 59 manufacturing facilities in 16 countries and approximately 91,000 employees worldwide.
NHBB is a leading manufacturer of precision bearings and complex bearing assemblies for the global aerospace, defense, medical, dental, and high technology markets.
TrueNorth, with offices in Stamford CT, Minneapolis MN, and Charleston SC, is a boutique investment bank comprised of senior bankers providing a full complement of middle-market financial advisory services. TrueNorth's bankers have completed hundreds of M&A (both sell-side and buy-side), capital-raising, and restructuring transactions across a broad range of industries. TrueNorth is active in cross-border transactions, and works extensively with Japan-based clients.
Any further inquiries can be directed to TrueNorth at the contact information provided below:
Fred Rossetti, Managing Director
Stamford Office
Direct Dial Phone Number (203) 817.0276
E-mail address: frossetti@truenorthcp.com
Yoshi Togo, Managing Director
Stamford Office
Direct Dial Phone Number (203) 817.0284
E-mail address: ytogo@truenorthcp.com
Jeff Gaynor, Managing Director
Stamford Office
Direct Dial Phone Number (203) 817.0277
E-mail address: jgaynor@truenorthcp.com
About TrueNorth Capital Partners LLC:
TrueNorth www.truenorthcp.com provides advisory services to companies seeking advice for middle-market M&A and financing transactions. Our focus on the middle-market enables us to provide independent, value-added advisory services to privately held middle-market companies, private equity and family office groups, and corporations, both domestic and international, across a broad range of industries. TrueNorth conducts its securities related business through its wholly-owned subsidiary TNCP, LLC, member FINRA/SIPC.