TrueNorth Advises Zahniser's Yachting Center on its Sale to Safe Harbor Marina
Stamford, Connecticut, March 2018 – TrueNorth Capital Partners LLC ("TrueNorth") is pleased to announce that it acted as advisor to Zahniser's Yachting Center, a comprehensive marine facility on the Chesapeake Bay ("Zahniser's"), in its sale to the Safe Harbor Marina family of marinas, a portfolio company of American Infrastructure Funds. Zahniser's, based in historic Solomons Island, Maryland, is a premier full service marine yachting facility. Zahniser's blends the beauty of a pristine yacht club and the technical expertise of an award-winning repair yard. The transaction was led by Dean Miltimore of TrueNorth's Stamford office.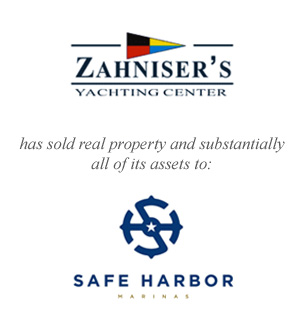 About TrueNorth Capital Partners LLC
TrueNorth Capital Partners LLC (truenorthcp.com) focuses on corporate advisory needs of clients worldwide. Capitalizing on the vast international M&A and restructuring backgrounds of its members, the firm provides sophisticated financial advice to middle market clients. TrueNorth's is based in Stamford, CT with offices in Minneapolis, MN, Philadelphia, PA and Charleston, NC. TrueNorth conducts its securities-related business through its wholly owned subsidiary TNCP, LLC, member FINRA/SIPC.
About Zahniser's Yachting Center
Zahniser's (zahnisers.com) located in Solomons, MD provides a comprehensive suite of services to professional and recreational boat owners, sailors and fishermen. Its facilities include 236 slips, full service yard, a restaurant, pool bar, ship's store, sail loft and recreational areas. Zahniser's was voted "Best on the Bay" by Chesapeake Bay Magazine in 2016. The yard was started in 1960 and was owned by Ellen and Albert "Skip" Zahniser.
About Safe Harbor
Safe Harbor Marinas (shmarinas.com) is the largest owner and operator of marinas in the United States. Based in Dallas, the company is dedicated to providing the highest standards of excellence in customer service across its portfolio of inland and coastal properties.
Any further inquiries can be directed to TrueNorth at the contact information provided below:
TrueNorth Capital Partners LLC
9 West Broad Street, Suite 510
Stamford, CT
203.604.2007
truenorthcp.com