TrueNorth Advises SUMIDA CORPORATION on its Acquisition of Pontiac Coil Inc.
Stamford, CT, June 2018: TrueNorth Capital Partners LLC is pleased to announce that its wholly-owned subsidiary, TNCP, LLC ("TrueNorth") acted as the financial advisor to SUMIDA CORPORATION and its newly formed subsidiary SUMIDA AMERICA HOLDINGS INC. (collectively "SUMIDA") in acquiring 100% of the shares of Pontiac Coil Inc. ("Pontiac").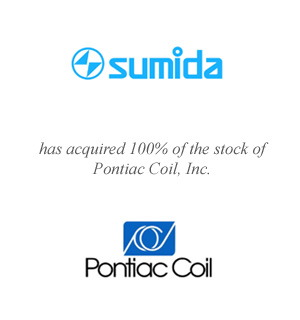 Pontiac engages in development, manufacturing and selling of various kinds of coils for the automotive industry with a central focus on the U.S. market. Having their headquarters located near Detroit Michigan, and a separate manufacturing facility in Searcy Arkansas, Pontiac has developed a close relationship with their customers. SUMIDA expects significant synergies with its global operations by combining Pontiac's technical strength, manufacturing capabilities and sales force with those of SUMIDA's.
SUMIDA CORPORATION (www.sumida.com) is a global leader in the design and manufacture of coil-related components and modules. Specializing in custom design solutions, SUMIDA's products are used in a wide range of applications from consumer electronic devices through to home appliances, automotive electronics, green energy solutions, industrial electronics and medical healthcare devices and equipment. Its core product scope includes components and modules such as power inductors & transformers, automotive keyless antennas, xenon ignitor modules, mobile communications equipment, radio frequency identification tags (RFID), power inverters for solar power generators and components for industrial lighting solutions. SUMIDA has manufacturing facilities in Japan, China (Taiping, Panyu, Nanning, Shanghai, Changde, Ji'an, SuQian), Mexico, Vietnam (Haiphong, Quang Ngai), Thailand, Germany (Obernzell, Neumarkt, Lehesten, Radeberg), Romania and Slovenia.
Jeff Gaynor and Fred Rossetti, Managing Directors at TrueNorth acted as Lead Bankers on this transaction. Mr. Rossetti commented that, "it is with great excitement that we have helped SUMIDA expand its manufacturing footprint into the US market. This addition to the SUMIDA Group will provide them with better access into the US automotive market place"
Founded in the 1950's Pontiac Coil (www.pontiaccoil.com) is a designer and high-volume manufacturer of electromechanical devices with a product portfolio that consists of fuel components for gas & diesel engines, clutch coils, hydraulic coils, solenoids, and a diverse range of electromechanical engineered devices. The company sells its products to industrial, automotive, agriculture, and heavy truck markets.
TrueNorth, with offices in Stamford CT, Charleston SC, Minneapolis MN, and Philadelphia PA, is a boutique investment bank comprised of senior bankers providing a full complement of middle-market financial advisory services. TrueNorth's bankers have completed hundreds of M&A (both sell-side and buy-side), capital-raising, and restructuring transactions across a broad range of industries. TrueNorth is active in cross-border transactions, and works extensively with Japan-based clients.
Any further inquiries can be directed to TrueNorth at the contact information provided below:
Fred Rossetti, Managing Director
Stamford Office
Direct Dial Phone Number (203) 817.0276
E-mail address: frossetti@truenorthcp.com
Jeff Gaynor, Managing Director
Stamford Office
Direct Dial Phone Number (203) 817.0277
E-mail address: jgaynor@truenorthcp.com
Yoshi Togo, Managing Director
Stamford Office
Direct Dial Phone Number (203) 817.0284
E-mail address: ttogo@truenorthcp.com
About TrueNorth Capital Partners LLC:
TrueNorth www.truenorthcp.com provides advisory services to companies seeking advice for middle-market M&A and financing transactions. Our focus on the middle-market enables us to provide independent, value-added advisory services to privately held middle-market companies, private equity and family office groups, and corporations, both domestic and international, across a broad range of industries. TrueNorth conducts its securities related business through its wholly-owned subsidiary TNCP, LLC, member FINRA/SIPC.