TrueNorth Advises Dari Farms Ice Cream Co., Inc. on its Sale to Diversis Capital LLC
Stamford, CT, August 2018: TrueNorth Capital Partners LLC is pleased to announce that its wholly-owned subsidiary, TNCP, LLC ("TrueNorth") acted as the exclusive financial advisor to Dari Farms Ice Cream Co., Inc. ("Dari Farms") in its sale to Diversis Capital LLC, a Los Angeles-based private equity firm ("Diversis"). Financial terms of the transaction were not disclosed.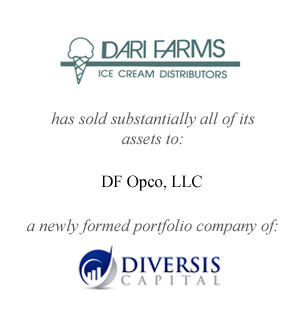 Headquartered in Tolland, CT, Dari Farms is the leading full-service Direct Store Delivery house in New England, serving over 5,000 points of distribution via their tri-temp warehouse and distribution platform. Founded in 1970, Dari Farms formed strong distribution partnerships with regional and national ice cream banners, while simultaneously expanding its reach to service retail outlets throughout southern New England. In the early 2000's, Dari Farms expanded into frozen foods and today carries thousands of SKUs across ambient, refrigerated, and frozen categories. By coupling the traditional full service DSD model with multiple temperature capabilities, Dari Farms has created a proven method for increasing sales and speed to market, while decreasing out of stocks, stales, and retailer's labor costs.
Dari Farms' management issued the following statement "It is with great pleasure that we today announce this new partnership. Diversis brings to Dari Farms an extensive portfolio of operational and industry resources, combining Direct-Store-Delivery knowledge with technological best practices. By integrating new technologies and expertise with the strengths of our existing management team and customer/vendor relationships, this collaboration is sure to enhance our capabilities and improve the experience of our customers."
Founded in 2013, Diversis Capital, LLC www.diversiscapital.com) is a North American private equity firm with a focus on carve-outs, standalone deals and special situations in the lower and middle markets that require both sharp financial acumen and operational expertise to reach success. The tight-knit team of professionals has experience working on complex transactions and leveraging deep hands-on operational expertise to help companies and their management teams achieve full potential. Diversis, which was founded by Managing Directors Ron Nayot and Kevin Ma, is currently in full acquisition mode with a goal of executing several transactions annually.
Jeff Gaynor, Managing Director at TrueNorth acted as Lead Banker on this transaction. TrueNorth, with offices in Stamford CT, Charleston SC, Minneapolis MN, and Philadelphia PA, is a boutique investment bank comprised of senior bankers providing a full complement of middle-market financial advisory services. TrueNorth's bankers have completed hundreds of M&A (both sell-side and buy-side), capital-raising, and restructuring transactions across a broad range of industries. TrueNorth is active in cross-border transactions and works extensively with Japan-based clients.
Barry Feigenbaum, a partner in the Hartford law firm Rogin Nassau LLC, represented Dari Farms in this transaction. Rogin Nassau is one of Connecticut's leading mid-sized full-service business law firms. Established in 1948, its work on behalf of its clients takes it throughout the region and anywhere in the world. The firm focuses on representing middle market companies, financial institutions and high net worth individuals in transactions involving mergers, acquisitions, financing, taxation, insolvency, complex commercial litigation, estate planning and all related fields.
Any further inquiries can be directed to TrueNorth at the contact information provided below:
Jeff Gaynor, Managing Director
Stamford Office
Direct Dial Phone Number (203) 817.0277
E-mail address: jgaynor@truenorthcp.com
About TrueNorth Capital Partners LLC:
TrueNorth www.truenorthcp.com provides advisory services to companies seeking advice for middle-market M&A and financing transactions. Our focus on the middle-market enables us to provide independent, value-added advisory services to privately held middle-market companies, private equity and family office groups, and corporations, both domestic and international, across a broad range of industries. TrueNorth conducts its securities related business through its wholly-owned subsidiary TNCP, LLC, member FINRA/SIPC.