TrueNorth Advises JNET Communications, LLC on its Sale of ServiCom Assets
Stamford, CT, February 2019: TrueNorth Capital Partners LLC is pleased to announce that its wholly-owned subsidiary, TNCP, LLC ("TrueNorth") acted as investment banker to JNET Communications, LLC ("JNET' or "Debtor") on the sale and assignment of certain ServiCom customer contracts to MCI Canada, LC, a subsidiary of MCI, LC ("MCI") pursuant to § 105(a), 363 and 365 of the United States Bankruptcy Code.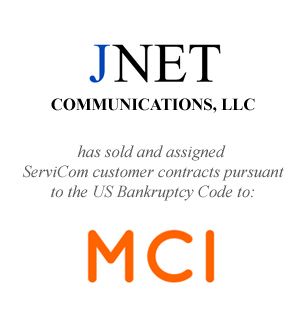 Jeffrey Gaynor, Managing Director and Dean Miltimore, Managing Director, co-managed this transaction for TrueNorth. TrueNorth's bankers have completed hundreds of M&A (both sell-side and buy-side), capital-raising, and restructuring transactions across a broad range of industries. TrueNorth was tasked with preparing marketing materials, identifying and contacting potential acquirers and managing discussions and due diligence in a particularly compressed timeframe. Zeisler & Zeisler were attorneys for the Debtor and were instrumental in the structuring and negotiation of this complex transaction.
About JNET
Founded in 2003, JNET is a customer service and fulfillment provider in joint administration with ServiCom LLC specializing in call center solutions across a range of industries, as well as cable network installation and maintenance services. JNET is headquartered in Warren, New Jersey.
About MCI:
MCI, LC (MCI) is headquartered in Iowa City, IA and has operations in Iowa, Georgia, Florida, Massachusetts, New Hampshire, Nova Scotia, and South Dakota. Driving modernization through digitization, MCI ensures clients do more for less. MCI is the holding company for a diverse lineup of tech-enabled business services operating companies. MCI organically grows, acquires and operates companies that have a synergistic products and services portfolios, including but not limited to business process outsourcing (BPO), business process management (BPM), call center services, Customer Experience (CX) services, information and communications technology (ICT), and application software to mid-market & enterprise partners. MCI now employs 2,000+ talented individuals with 100+ diverse North American client partners across the following MCI brands: Gravis Apps, Mass Markets, The Sydney Call Centre, and OnBrand24.
For more information, please visit
https://www.thesydneycentre.com/ or https://www.mci.world/
About Zeisler & Zeisler
For or over 50 years, Zeisler & Zeisler has provided the highest level of quality legal representation, responsiveness and professional commitment to empower its clients to overcome obstacles and seize opportunities in a cost-effective manner. The firm offers a broad range of legal services to local, regional and national clients, in the areas of insolvency, litigation, business law, commercial and real estate transactions, and personal injury. Zeisler & Zeisler's insolvency group, in particular, enjoys a national reputation in the areas of bankruptcy, corporate restructuring, creditors' rights and other insolvency matters, leveraging its vast experience, passion and creativity to resolve its clients' most daunting financial challenges. Its highly respected and trial-ready litigation team blends tenacious representation and practical counsel to win high-stakes disputes in a diverse range of legal matters.
Any further inquiries can be directed to TrueNorth at the contact information provided below:
Jeff Gaynor, Managing Director
Direct Dial Phone Number (203) 817.0277
E-mail address: jgaynor@truenorthcp.com
Dean Miltimore, Managing Director
Direct Dial Phone Number (203) 817.0278
E-mail address: dmiltimore@truenorthcp.com
About TrueNorth Capital Partners LLC:
TrueNorth provides advisory services to companies seeking advice for middle-market M&A and financing transactions. With offices in Stamford CT, Charleston SC, Minneapolis MN, and Philadelphia PA, TrueNorth is a boutique investment bank comprised of senior bankers providing a full complement of financial advisory services. Our focus on the middle-market enables us to provide independent, value-added advisory services to privately held middle-market companies, private equity and family office groups and corporate clients, both domestic and international, across a broad range of industries. TrueNorth conducts its securities related business through its wholly-owned subsidiary, TNCP, LLC, member FINRA/SIPC.
About Scout Valuations LLC:
Scout Valuations, a wholly-owned subsidiary of TrueNorth, is fully dedicated to business valuation. We provide thorough, independent valuation analyses together with superior client service and responsiveness. Our analyses combine a detailed understanding of the business, industry and economic context, with the insight to address complex valuation issues regarding your business.