TrueNorth Advises Calvert Holdings on the sale of Calvert Laboratories to Altasciences, a portfolio company of Novo Holdings
Stamford, CT, April 30, 2021: TrueNorth Capital Partners LLC ("TrueNorth") is pleased to announce that its wholly-owned subsidiary, TNCP, LLC ("TrueNorth") acted as exclusive M&A advisor to Calvert Holdings on its sale of Calvert Laboratories to Altasciences, a CRO/CDMO and portfolio company of Novo Holdings.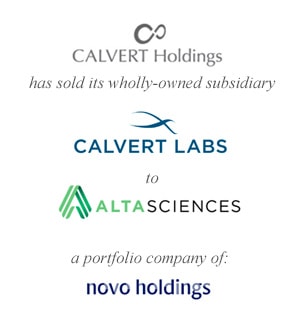 Altasciences, a forward-thinking CRO/CDMO supporting all crucial steps in early-stage drug development, from lead candidate selection to clinical proof of concept, has completed the acquisition of Calvert Laboratories, a preclinical CRO located on the U.S.A.'s East Coast. This acquisition will complement Altasciences' current preclinical West Coast operations, located just north of Seattle, WA. For more than 40 years, Calvert Laboratories has been working with clients to help develop the next generation of therapeutics aimed at extending and improving human life; in line with Altasciences' focus on getting better drugs to the people who need them faster.
"This acquisition will increase small molecule expertise as well as add efficacy pharmacology, ophthalmology, and carcinogenicity study capabilities, to Altasciences' current preclinical offering. Furthermore, it expands Altasciences' presence on the East Coast, and the site is conveniently located in close proximity to our CDMO facility," added Steve Mason, Co-Chief Operating Officer at Altasciences.
"This acquisition is an integral part of Altasciences' strategic growth plan to provide a comprehensive, fully integrated early phase drug development solution, while addressing the ever-changing outsourcing challenges of biopharmaceutical companies across the globe," explained Chris Perkin, CEO at Altasciences. "We look forward to working side by side with our new team of preclinical experts on the East Coast, a team that shares our values for excellence, integrity, and customer focus," concluded Chris Perkin.
Calvert Laboratories has a long track record in the industry as a collaborative development partner bringing extensive experience, an innovative solutions-oriented approach, and unsurpassed performance to preclinical drug development programs. "The entire team at Calvert Laboratories is very excited to join the Altasciences family," said Michael A. Recny, Ph.D., outgoing Chief Executive Officer of Calvert Laboratories. "The Company can now offer our clients an expanded suite of preclinical and clinical services by leveraging the broad capabilities of a larger and more diversified global CRO."
Dr. Recny added: "It was a pleasure to work with the TrueNorth team to achieve a successful sale. We had several offers to consider, and their tireless effort, strategic insights, unwavering commitment and ability to navigate a dynamic M&A process with multiple parties was instrumental in helping us to achieve maximum value for shareholders, and with a buyer who will be an ideal partner for Calvert Laboratories going forward."
David Reilly, Managing Director of TrueNorth, led the TrueNorth team on the transaction. Mr. Reilly commented: "It was our privilege to work with the Calvert team on this transaction which was driven by a compelling strategic rationale for both Calvert Laboratories and Altasciences.
About TrueNorth Capital Partners LLC:
TrueNorth provides advisory services to companies seeking advice for middle-market M&A and financing transactions. With offices in Stamford, CT; Charleston, SC; Central, NJ; Naples, FL; Minneapolis, MN; Kansas City, KS and London, UK, TrueNorth is a boutique investment bank comprised of senior bankers providing a full complement of financial advisory services. Our focus on middle-market sized transactions enables us to provide independent, value-added advisory services to privately held companies, private equity and family office groups and corporate clients, both domestic and international, across a broad range of industries. TrueNorth conducts its securities related business through its wholly owned subsidiary, TNCP, LLC, member FINRA/SIPC.
About Scout Valuations LLC:
Scout Valuations, a wholly-owned subsidiary of TrueNorth, is fully dedicated to business valuation. We provide thorough, independent valuation analyses together with superior client service and responsiveness. Our analyses combine a detailed understanding of the business, industry and economic context, with the insight to address complex valuation issues regarding your business.
Further inquiries should be directed to TrueNorth at the contact information provided below:
David Reilly, Managing Director
Stamford Office
Direct Dial: (203) 817-0282
E-mail: dreilly@truenorthcp.com