TrueNorth Advises Macton Corporation on the Refinance of its Senior Loan Facility
Stamford, CT, September 2016 –TrueNorth Capital Partners LLC ("TrueNorth") is pleased to announce that its wholly-owned subsidiary, TNCP, LLC acted as financial advisor to Macton Corporation in connection with the refinance of its senior loan facility. Funding was provided by the Asset Based Lending Group at Rockland Trust Company. This was an important first step in providing Macton Corporation with the capital structure necessary to support its growth. TrueNorth will now assist the company as it seeks to both consolidate junior debt and procure additional growth capital. Rob Africk, Managing Director, is senior banker to Macton Corporation.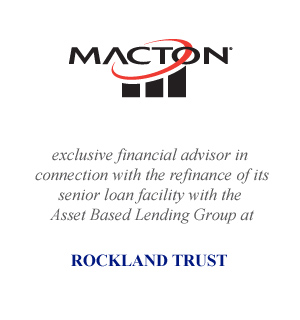 About Macton Corporation:
Macton Corporation has been engineering, fabricating and installing high quality moving structures for six decades from its offices in Connecticut. From 140-foot diameter turntables and 75 ton lifts, to 95-ton people movers and 55-ton transporters, Macton Corporation is a leader in the rail shop equipment and commercial turntable markets. Rail shop equipment consists of a wide range of products, which allow rail shop personnel to lift, turn, rotate and otherwise move rail vehicles and truck assemblies for inspection and maintenance purposes. Turntables are used in a wide variety of applications including revolving restaurants, security systems, marine cable laying and truck maneuvering.
About TrueNorth Capital Partners LLC:
TrueNorth Capital Partners LLC www.truenorthcp.com provides corporate advisory services on mergers and acquisitions and restructurings as well as provides valuations primarily to middle market companies. Capitalizing on the vast international M&A and restructuring backgrounds of the founders, the firm provides sophisticated financial advice to middle market clients. TrueNorth's professionals have built their careers and reputations serving this market and understanding its intricacies. Their skills have been evidenced in hundreds of assignments and they have completed those assignments while always remaining true to their core principles: unwavering commitment to our clients' best interests and the highest standard of service. TrueNorth conducts its securities-related business through its wholly owned subsidiary TNCP, LLC, member FINRA/SIPC.
About Rockland Trust:
Independent Bank Corp. has approximately $7.4 billion in assets and is the holding company for Rockland Trust Company, a full-service commercial bank headquartered in Massachusetts. Rockland Trust offers a wide range of banking, investment, and insurance services to businesses and individuals through retail branches, commercial lending offices, investment management offices, and residential lending centers located in Eastern Massachusetts and Rhode Island, as well as through telephone banking, mobile banking, and the Internet. Named in 2015 to The Boston Globe's "Top Places to Work" list for the seventh consecutive year, Rockland Trust was rated the top Largest Employer to work for in Massachusetts. The Company is also an FDIC member and an Equal Housing Lender. To find out why Rockland Trust is the bank "Where Each Relationship Matters ®", please visit www.rocklandtrust.com.
Any further inquiries can be directed to TrueNorth at the contact information provided below:
TrueNorth Capital Partners LLC
9 West Broad Street, Suite 510
Stamford, CT
203.604.2007
www.truenorthcp.com