TrueNorth Advises Cassavant Machining on its Transaction with Gallant Capital Partners
Stamford, CT, January, 2020: TrueNorth Capital Partners LLC ("TrueNorth") is pleased to announce that its wholly-owned subsidiary, TNCP, LLC ("TrueNorth") acted as financial advisor to Cassavant Machining, Inc., along with its related entities, Cassavant Assembly and Processing, LLC (CAP) and Gear Up Holdings, LLC, d/b/a Kimberly Gear and Spline (Gear Up) (all collectively ("Cassavant"), on its sale to CMI Group Holdings, LLC, a newly-formed company of Gallant Capital Partners, LLC ("Gallant").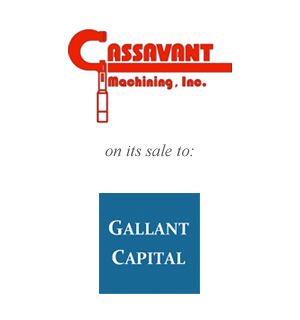 Founded in 1972, Cassavant is one of the industry's leading manufacturers of precision parts for the aerospace, military and commercial markets. Joseph (JR) and Edward (Ed) Cassavant have expanded operations to a level where, in order to accelerate growth during the coming years, a capital partner made sense.
Gallant was uniquely positioned to partner with Cassavant given the team's experience in acquiring and partnering with companies in the Aerospace & Defense industry. In 2018, Gallant acquired Aero Turbine, a leading provider of maintenance, repair and overhaul services for aircraft engines and engine components. Gallant's executives have a long history of successfully investing beside founders and strong leadership teams to accelerate growth and believed they were well suited to add significant value in growing Cassavant both organically and through M&A.
Fred Rossetti, Managing Director at TrueNorth acted as Lead Banker on this transaction. Mr. Rossetti commented that, "It was our privilege to work with JR and Ed as they progress to the next chapter in what we are certain will be the continued success of their company. I cannot recall seeing any, better run A&D components manufacturer then Cassavant."
JR Cassavant, President and CEO added "We were very fortunate to be able to partner with TrueNorth through this process. Their vast experience helped make this transition go as smoothly as possible. They anticipated and were able to react to various situations as they arose. Fred and his team were professional and knowledgeable about the process and helped guide and educate us along the way."
About Cassavant
Cassavant (https://cassmac.com) has 48 years of designing and machining precision component parts, as-well as small assembled components to the aerospace and commercial industries. Cassavant's material capabilities span from aluminum and magnesium, to low-alloy and stainless steels, to titanium and super-alloys (e.g. Inconel and Hastelloy). Cassavant has also dealt with every material, from bar and sheet/plate stock, to castings and forgings.
About Gallant
Founded by Jon Gimbel and Anthony Guagliano, Gallant is an investment firm executing an operationally focused strategy in the lower middle market. Gallant makes control investments in sectors where the team has extensive experience and relationships that drive value. They invest in Industrials, Technology and Business-services companies that provide, what they believe to be, mission-critical products or services, and continuously seek to partner with world-class management teams to drive operational improvements while accelerating long-term growth.
About TrueNorth Capital Partners LLC
TrueNorth provides advisory services to companies seeking advice for middle-market M&A and financing transactions. With offices in Stamford CT, Charleston SC, and Minneapolis MN, TrueNorth is a boutique investment bank comprised of senior bankers providing a full complement of financial advisory services. Our focus on the middle-market enables us to provide independent, value-added advisory services to privately held middle-market companies, private equity and family office groups and corporate clients, both domestic and international, across a broad range of industries. TrueNorth conducts its securities related business through its wholly owned subsidiary, TNCP, LLC, member FINRA/SIPC.
About Scout Valuations LLC
Scout Valuations, a wholly owned subsidiary of TrueNorth, is fully dedicated to business valuation. We provide thorough, independent valuation analyses together with superior client service and responsiveness. Our analyses combine a detailed understanding of the business, industry and economic context, with the insight to address complex valuation issues regarding your business.
Any further inquiries can be directed to TrueNorth at the contact information provided below:
Fred Rossetti, Managing Director
Direct Dial Phone Number (203) 817-0276
E-mail address: frossetti@truenorthcp.com
Michael Hunter, Managing Director
Direct Dial Phone Number (203) 817-0281
E-mail address: mhunter@truenorthcp.com