Clinton Nurseries, Inc. Emerges from Chapter 11 Pursuant to a Plan of Reorganization
Stamford, CT, March 2020: TrueNorth Capital Partners LLC ("TrueNorth") congratulates Clinton Nurseries, Inc. ("Clinton Nurseries"), on its exit from Chapter 11 pursuant to its plan of reorganization. During the period Clinton Nurseries operated under the protection of Chapter 11 of the bankruptcy code, TrueNorth was engaged as exclusive investment banker to Clinton Nurseries. TrueNorth congratulates all professionals engaged, and particularly Eric Henzy, a partner with Zeisler and Zeisler, who was lead counsel to Clinton Nurseries.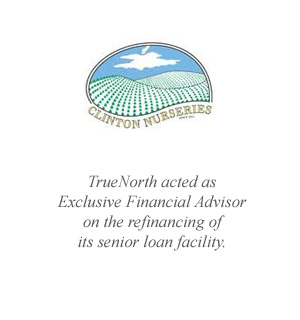 Jeff Gaynor, Managing Director at TrueNorth acted as Lead Banker on this transaction. Mr. Gaynor is a seasoned restructuring professional and one of the less than 800 individuals to earn the designation as Certified Turnaround Professional. He has developed an extraordinary ability to quickly process complex financial, organizational and operational issues; assimilate relevant data, identify options and develop a critical path for successful execution.
About Clinton Nurseries
Clinton Nurseries, headquartered in Westbrook, CT, is a leading East Coast producer of shrubs and trees, established more than 96 years. Clinton Nurseries is built on care and attention to detail, reflecting grow times (in some cases years) necessary to fulfill order requests across the spectrum of grow times for one "trade" gallon pots to twenty-five "trade" gallon pots. The Company is organized as three C Corporations and operates from three locations: its headquarters in Westbrook, CT, and two growing facilities in Maryland and Florida.
About TrueNorth Capital Partners LLC
TrueNorth provides advisory services to companies seeking advice for middle-market M&A and financing transactions. With offices in Stamford, CT; Charleston, SC; Sea Girt, NJ; Minneapolis, MN; Naples, FL and London, UK. TrueNorth is a boutique investment bank comprised of senior bankers providing a full complement of financial advisory services. Our focus on the middle-market enables us to provide independent, value-added advisory services to privately held middle-market companies, private equity and family office groups and corporate clients, both domestic and international, across a broad range of industries. TrueNorth conducts its securities related business through its wholly owned subsidiary, TNCP, LLC, member FINRA/SIPC.
About Zeisler & Zeisler
For or over 50 years, Zeisler & Zeisler has provided the highest level of quality legal representation, responsiveness and professional commitment to empower its clients to overcome obstacles and seize opportunities in a cost-effective manner. The firm offers a broad range of legal services to local, regional and national clients, in the areas of insolvency, litigation, business law, commercial and real estate transactions, and personal injury. Zeisler & Zeisler's insolvency group, in particular, enjoys a national reputation in the areas of bankruptcy, corporate restructuring, creditors' rights and other insolvency matters, leveraging its vast experience, passion and creativity to resolve its clients' most daunting financial challenges. Its highly respected and trial-ready litigation team blends tenacious representation and practical counsel to win high-stakes disputes in a diverse range of legal matters.
About Scout Valuations LLC
Scout Valuations, a wholly owned subsidiary of TrueNorth, is fully dedicated to business valuation. We provide thorough, independent valuation analyses together with superior client service and responsiveness. Our analyses combine a detailed understanding of the business, industry and economic context, with the insight to address complex valuation issues regarding your business.
Any further inquiries can be directed to TrueNorth at the contact information provided below:
Jeff Gaynor, Managing Director
Direct Dial Phone Number (203) 817-0277
E-mail address: jgaynor@truenorthcp.com