TrueNorth Advises The Delta Companies on its Acquisition of Foreman Therapy Services
Stamford, CT, March, 2020: TrueNorth Capital Partners LLC ("TrueNorth") is pleased to announce that its wholly-owned subsidiary, TNCP, LLC ("TrueNorth") acted as exclusive financial advisor to The Delta Companies ("TDC"), a subsidiary of UHS Partners (an investment subsidiary of Mitsui & Co.), on its acquisition of substantially all of the assets of Foreman Therapy Services ("FTS").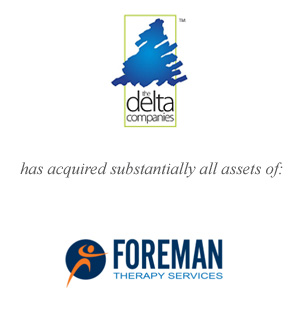 The Delta Companies is a nationally recognized leader in the healthcare staffing industry offering permanent & temporary staffing solutions nationwide for physicians & healthcare professionals. TDC's long-term business growth objective is to acquire strategic businesses that complement and enhance their current operations. For TDC, the acquisition of FTS brings additional technology solutions to enhance the firm's digital transformation strategy. With a focus on ongoing innovation, TDC can continue to effectively meet the evolving needs of their clients and candidates.
"TrueNorth's unique ability to approach-and-facilitate discussions with target owners opened the door for a number of attractive opportunities. FTS, however, was the "best fit" for TDC to expand our innovative capabilities, grow our business, and better meet the needs of more providers, facilities and communities." said Bill Tracewell, CEO of The Delta Companies.
Jeff Schroeder, CFO of The Delta Companies added "We were very fortunate to be able to work with TrueNorth on this acquisition. Their support was instrumental in navigating various difficult stages of the transaction. We will continue to work with TrueNorth to pursue additional opportunities in the healthcare staffing market".
TrueNorth professionals supporting The Delta Companies on this transaction were Yoshi Togo, Michael Hunter and Connor Bozzo.
About The Delta Companies:
The Delta Companies is the leading physician and healthcare staffing firm in the United States offering permanent and temporary staffing solutions nationwide for physicians, physician extenders, allied, and therapy healthcare professionals. Since it was founded in 1997, TDC has launched three business units: Delta Physician Placement for permanent physician staffing solutions, Delta Healthcare Providers for allied and travel therapy providers, and Delta Locum Tenens for short-term and long-term provider placements. Members of TDC's executive and management teams serve on various industry boards, including the National Association of Locum Tenens Organizations, National Association of Travel Healthcare Organizations, and American Staffing Association Healthcare Council. Employees of TDC regularly participate in philanthropic events and have raised more than $1.3 million for Texas Scottish Rite Hospital for Children.
About Forman Therapy Services:
Founded by Nate Foreman in 2011, Foreman Therapy Services is a therapy staffing company that provides qualified and professional physical, occupational, and speech therapists to home health agencies and healthcare facilities across the country. In 2019, FTS was named as one of the 5,000 fastest-growing privately held companies in the U.S. by business magazine Inc. That same year, Nate was recognized by the prestigious Dallas Business Journal as an honoree of the "40 Under 40" Awards. The publication lauded Nate's company for treating 250,000 patients during the year and for his ongoing growth strategy.
About TrueNorth Capital Partners LLC:
TrueNorth Capital Partners ("TrueNorth") is a boutique investment bank comprised of senior bankers providing a full complement of financial advisory services. With offices in Stamford, CT; Charleston, SC; Sea Girt, NJ; Naples, FL; Minneapolis, MN and London, UK., TrueNorth provides advisory services to companies seeking advice for middle-market M&A and financing transactions. TrueNorth's focus on the middle-market enables the firm to provide independent, value-added advisory services to privately held middle-market companies, private equity and family office groups and corporate clients, both domestic and international, across a broad range of industries. TrueNorth conducts its securities related business through its wholly owned subsidiary, TNCP, LLC, member FINRA/SIPC.
About Scout Valuations LLC:
Scout Valuations, a wholly owned subsidiary of TrueNorth, is fully dedicated to business valuation. We provide thorough, independent valuation analyses together with superior client service and responsiveness. Our analyses combine a detailed understanding of the business, industry and economic context, with the insight to address complex valuation issues regarding your business.
Any further inquiries can be directed to TrueNorth at the contact information provided below:
Yoshi Togo, Managing Director
Stamford, CT Office
Direct Dial Phone Number (203) 817.0284
E-mail address: ttogo@truenorthcp.com
Michael Hunter, Managing Director
Stamford, CT Office
Direct Dial Phone Number (203) 817.0281
E-mail address: mhunter@truenorthcp.com