TrueNorth/Scout Valuations Advise ITOCHU Corporation on its Investment in and Alliance with BigRentz
Stamford, CT, April, 2020: TrueNorth Capital Partners LLC ("TrueNorth") is pleased to announce that its wholly-owned subsidiary, TNCP, LLC ("TrueNorth") acted as exclusive financial advisor to ITOCHU Corporation ("ITOCHU"), on its capital investment in and business alliance with BigRentz, Inc. ("BigRentz"). In addition, Scout Valuations LLC, a wholly-owned subsidiary of TrueNorth, provided valuation services in connection with the transaction.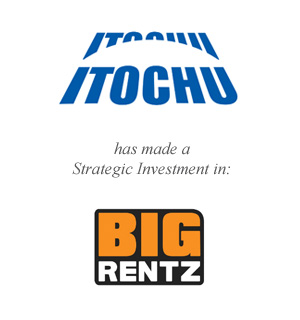 BigRentz is a leading online construction equipment rental marketplace which currently partners with over 2,500 rental suppliers comprising more than 8,500 rental yards and an estimated $50 billion of assets available for rental across the United States. BigRentz is leading the equipment rental industry by using innovative technology to streamline the rental process for both the customer and equipment rental partners.
The strategic investment in BigRentz is in line with ITOCHU's mid-term management plan, "Brand New Deal 2020" that aims to reinvent its businesses by investing in next-generation technologies and new business models, adhering to its concept of "Market-in", locating near end-users. Through this partnership with BigRentz, ITOCHU intends to create new value and solutions in the construction-equipment business by harnessing Big Data, Internet of Things (IoT) and the networks of the two companies.
Masa Yoshikawa, Manager, Construction Machinery, Construction Machinery & Industrial Machinery Department will join the Board of Directors of BigRentz. Mr. Yoshikawa said, "We thank TrueNorth Capital Partners for their thoughtful advice throughout this transaction. They initially identified BigRentz as an ideal partner and provided invaluable assistance as a member of the ITOCHU transaction team to guide us to a successful strategic investment."
Professionals supporting ITOCHU were Yoshi Togo, Nick Chapman, Michael Hunter and Calvin Gaynor from TrueNorth and Mark Campbell and Greg Tartaglino from Scout Valuations.
About ITOCHU Corporation:
Founded in 1858, ITOCHU Corporation is a Fortune Global 500 Company and one of the largest general trading companies (sogo shosha) in Japan. With approximately 110 bases in 63 countries, ITOCHU is engaged in domestic trading, import/export and overseas trading of various products, as well as business investment activities in Japan and overseas. With its headquarters in Tokyo, Japan, ITOCHU's core business segments include the following: Information and communications technology (ICT) and finance; Textile; Machinery; Metals and Minerals; Energy and Chemicals; Food; General Products and Realty; and Others.
About BigRentz:
Founded in 2015, BigRentz is an online construction-equipment rental marketplace innovating the way construction equipment is rented. BigRentz represents the largest equipment-rental network in the nation, specializing in aerial equipment, such as scissor lifts, boom lifts and forklifts; dirt equipment, such as excavators, backhoes and skid steers; and jobsite services, including portable toilets, storage, and fencing, to meet the needs of businesses and contractors.
About TrueNorth Capital Partners LLC:
TrueNorth provides advisory services to companies seeking advice for middle-market M&A and financing transactions. With offices in Stamford, CT; Charleston, SC; Sea Girt, NJ; Naples, FL; Minneapolis, MN and London, UK. TrueNorth is a boutique investment bank comprised of senior bankers providing a full complement of financial advisory services. Our focus on the middle-market enables us to provide independent, value-added advisory services to privately held middle-market companies, private equity and family office groups and corporate clients, both domestic and international, across a broad range of industries. TrueNorth conducts its securities related business through its wholly owned subsidiary, TNCP, LLC, member FINRA/SIPC.
About Scout Valuations LLC:
Scout Valuations, a wholly owned subsidiary of TrueNorth, is fully dedicated to business valuation. Scout provides thorough, independent valuation analyses together with superior client service and responsiveness. Scout's analyses combine a detailed understanding of the respective business, industry and economic context, with the insight to address complex valuation issues regarding the business.
Further inquiries should be directed to TrueNorth at the contact information provided below:
Tsuyoshi "Yoshi" Togo, Managing Director
Direct Dial: (203) 817-0284, E-mail: ttogo@truenorthcp.com
Nicholas Chapman, Managing Director
Direct Dial: (843) 534-5988, E-mail: nchapman@truenorthcp.com
Michael Hunter, Managing Director
Direct Dial: (203) 817-0281, E-mail address: mhunter@truenorthcp.com
Mark Campbell, Managing Director – Scout Valuations
Direct Dial: (203) 817-0287, E-mail: mcampbell@scoutvaluations.com