TrueNorth Advises Bicron Electronics Company on its Sale to iNRCORE, a portfolio company of The Jordan Company
Stamford, CT, September, 2020: TrueNorth Capital Partners LLC ("TrueNorth") is pleased to announce that its wholly-owned subsidiary, TNCP, LLC ("TrueNorth") acted as exclusive financial advisor to Bicron® Electronics Company, in its sale to iNRCORE, a premier supplier of high reliability products including magnetics and other electronic components.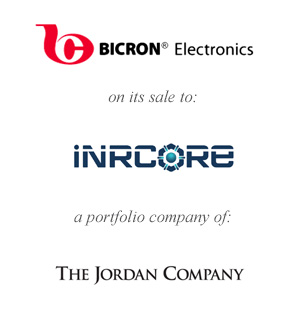 The acquisition, backed by iNRCORE's majority owner, The Jordan Company, comes on the heels of iNRCORE's recent rebranding and continues the transformational growth plan that iNRCORE started in 2020. The addition of Bicron Electronics will further strengthen iNRCORE's Power product offerings by adding depth in Current Sense Transformers, increasing custom design offerings, and adding solenoids to iNRCORE's existing product lines. Bicron is a direct fit with iNRCORE's plans to enhance its presence in new markets, and the acquisition aligns well with iNRCORE's vision of providing the best in power, signal conditioning, and data transmission solutions across a multitude of high-reliability industries. iNRCORE is thrilled to support Bicron's proud tradition of reliability and excellence. Bicron Electronics will continue to operate as a wholly-owned subsidiary of iNRCORE with neither a change in its organizational structure nor its sales points of contact.
About iNRCORE, LLC:
iNRCORE, headquartered in Bristol, PA, USA, designs and manufactures magnetic components that transmit high-speed, mission-critical data and power in the harshest operating conditions. Its solutions have operated on the frontlines of defense to the frontiers of space exploration. For over 70 years, iNRCORE has deployed reliable and intelligent solutions to power next-generation systems. Its expert engineering teams and award-winning quality and service exceed its customers demanding expectations. Whether it is working to assemble a component to meet a customer's custom design or screening products to qualify for a critical mission, iNRCORE's solutions are "rugged to the core.
About Bicron Electronics Company:
Bicron Electronics Company is a leading provider of corona-free transformers, solenoids, and current sensing transformers supporting industries such as: smart grid power distribution, alternate energy, transportation, medical, military/aerospace, and other advanced industrial end markets.
About TrueNorth Capital Partners LLC:
TrueNorth provides advisory services to companies seeking advice for middle-market M&A and financing transactions. With offices in Stamford, CT; Charleston, SC; Central, NJ; Naples, FL; Minneapolis, MN; Kansas City, KS and London, UK, TrueNorth is a boutique investment bank comprised of senior bankers providing a full complement of financial advisory services. Our focus on the middle-market enables us to provide independent, value-added advisory services to privately held middle-market companies, private equity and family office groups and corporate clients, both domestic and international, across a broad range of industries. TrueNorth conducts its securities related business through its wholly owned subsidiary, TNCP, LLC, member FINRA/SIPC.
About Scout Valuations LLC:
Scout Valuations, a wholly-owned subsidiary of TrueNorth, is fully dedicated to business valuation. We provide thorough, independent valuation analyses together with superior client service and responsiveness. Our analyses combine a detailed understanding of the business, industry and economic context, with the insight to address complex valuation issues regarding your business.
Further inquiries should be directed to TrueNorth at the contact information provided below:
Jeffrey Gaynor, Managing Director
Stamford Office
Direct Dial: (203) 817-0277
E-mail: jgaynor@truenorthcp.com