TrueNorth Advises Toledo Ticket Technologies on its Acquisition of Oobeo, Inc.
Stamford, CT, February 10, 2021: TrueNorth Capital Partners LLC is pleased to announce that its wholly-owned subsidiary, TNCP, LLC ("TrueNorth") acted as exclusive financial advisor to Toledo Ticket Technologies ("Toledo") in acquiring substantially all of the assets of Oobeo, Inc. ("Oobeo").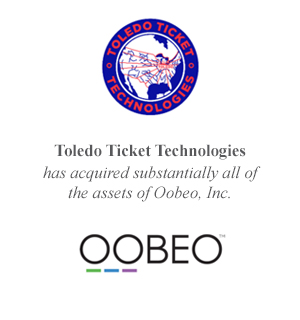 Oobeo offers cloud-based software that streamlines parking operations through web, mobile and SMS technology. Oobeo's technology enables clients in industries including hospitality, education, and healthcare, across the U.S., to deliver unparalleled customer satisfaction and access through valet management and ticketing services. The acquisition will further enhance and grow Toledo's evolving product portfolio and technology-based solutions. Dave Dorner, executive vice president, Toledo, has assumed new responsibility as president of Oobeo. "The acquisition of Oobeo is another step in Toledo's strategic plan to provide additional technologies for secure access across the parking and event ticketing industries," Dorner said.
"We are excited to welcome Oobeo to the Toledo team. Their products are the best available and deliver an unmatched user experience. Couple that with employees dedicated to providing customers with the highest quality of service and most advanced software, Oobeo is the perfect partner for us," said Tom Carter, president and chief executive officer, Toledo. "For more than 110 years, Toledo has prided itself in understanding the challenges our customers face and how we can help them achieve their goals. The acquisition of Oobeo reinforces our commitment to providing our customers with the most technologically advanced solutions to their ticketing and parking management challenges. We are the first hybrid ticketing solutions provider to the parking industry."
Unlike other options available, Oobeo's technology works via text messaging so customers do not need to download an app to utilize these services. Oobeo offers three different parking platform solutions for parking operators: valet parking management, pay by space (self-parking) and permit management. The technology offers an efficient and economical operating platform for operators, property owners, colleges, and municipalities and a seamless experience for their customers.
"Toledo is the perfect fit for Oobeo. With its stellar reputation, credibility, and access, it is a natural fit for us and allows Oobeo to continue to grow our footprint and technology solutions," said Tom Bexx, director of product development, Oobeo. "When I started Oobeo six years ago, we could only have hoped to eventually become part of a company that's so well respected and admired across the entire parking community."
Andy Bess, Managing Director at TrueNorth acted as Lead Banker on this transaction, assisted by Connor Bozzo, Associate. Any further inquiries can be directed to TrueNorth at the contact information provided below:
Andy Bess, Managing Director
Direct Dial Phone Number: (201) 563-2609
E-mail address: abess@truenorthcp.com
ABOUT TOLEDO TICKET TECHNOLOGIES:
Toledo Ticket produces tickets including bar-coded tickets and magnetic-striped tickets, hand-issued, multi-part valet, pay & display, pay-by-space, and spitter tickets for thermal/nonthermal revenue control. Toledo is certified by most parking equipment manufacturers and provides ticket products to more than 6,500 parking facilities and 2,000 sports and event venues worldwide. Based in Toledo, Ohio, Toledo has been family owned and operated since 1910.
ABOUT OOBEO, INC.:
Oobeo launched in 2016, is a cloud-based valet software designed to improve efficiency and enhance customer experience throughout the valet process. The platform connects valet businesses to consumers through a streamlined process allowing vehicle retrieval requests, mobile payment, vehicle management, and data tracking. The technology is designed for Android and iOS devices.
ABOUT TRUENORTH CAPITAL PARTNERS LLC:
TrueNorth provides advisory services to companies seeking advice for middle-market M&A and financing transactions. With offices in Stamford, CT, Charleston, SC, Central, NJ, Naples, FL, Minneapolis, MN, Kansas City, KS, and London, UK, TrueNorth is a boutique investment bank comprised of senior bankers providing a full complement of financial advisory services. Our focus on the middle-market, combined with our strong cross-border M&A advisory capabilities, enables us to provide independent, value-added advisory services to privately held middle-market companies, private equity and family office groups and corporate clients, both domestic and international, across a broad range of industries. TrueNorth conducts its securities related business through its wholly owned subsidiary, TNCP, LLC, member FINRA/SIPC.
ABOUT SCOUT VALUATIONS LLC:
Scout Valuations, a wholly-owned subsidiary of TrueNorth, is fully dedicated to business valuation. We provide thorough, independent valuation analyses together with superior client service and responsiveness. Our analyses combine a detailed understanding of the business, industry and economic context, with the insight to address complex valuation issues regarding your business.