G.W. Lisk Company Acquires Island Components Group
Stamford, CT, November 17, 2021: TrueNorth Capital Partners LLC is pleased to announce that its wholly-owned subsidiary, TNCP, LLC ("TrueNorth") acted as exclusive M&A advisor to G.W. Lisk Company, a global leader in engineered solutions for aerospace, defense, on/off highway, and mobile industrial hydraulics, on its acquisition of Island Components Group, a Holbrook, New York manufacturer specializing in high performance motors, electromechanical servo-actuators and rotating components in the aerospace, defense and industrial sectors.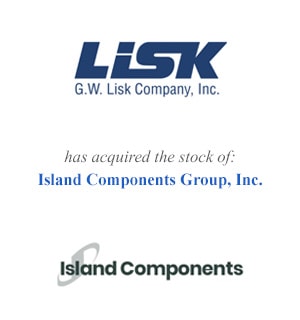 Island Components' history of providing electrically actuated precision motion solutions will complement Lisk's extensive line of engineered products. "The highly complementary nature of products, technology and employee talent will enhance our opportunities to serve our customers" said, G.W. Lisk Company President and CEO, Ed Maier, "Island Components will continue to build on Lisk's long and storied history of innovation and growth".
Island Components will continue to operate independently as a division of G.W. Lisk Company. Members of the Island Components executive team will work alongside G.W. Lisk Company to realize the benefits of this business combination. Island Components Group's President, Bill Brown, commented "Island Components Group is excited to join G.W. Lisk. We believe our strengths are very complementary to G.W. Lisk's product, technology and customer base."
About G.W.Lisk Company
G.W. Lisk Company is a global leader in the design and manufacture of engineered solutions including electrical actuators, solenoids, solenoid valves, linear and rotary position sensors, and flame arrestors. We serve hundreds of customers in diverse markets throughout the world with market-leading solutions enabled by our extensive design, test and manufacturing capabilities. For more information about G.W. Lisk Company visit www.gwlisk.com.
Any further inquiries can be directed to TrueNorth at the contact information provided below:
Jeffrey Gaynor, Managing Director
Direct Dial Phone Number: (203) 817-0277
Email address: jgaynor@truenorthcp.com
Mark Crouch, Managing Director
Direct Dial Phone Number: (913) 320-2674
Email address: mcrouch@truenorthcp.com
About TrueNorth Capital Partners LLC:
TrueNorth provides advisory services to companies seeking advice for middle-market M&A and financing transactions. With offices in Stamford CT, Charleston SC, Central, NJ, Naples, FL, Minneapolis, MN, Kansas City, KS and London, UK, TrueNorth is a boutique investment bank comprised of senior bankers providing a full complement of financial advisory services. Our focus on the middle-market enables us to provide independent, value-added advisory services to privately held middle-market companies, private equity and family office groups and corporate clients, both domestic and international, across a broad range of industries. TrueNorth conducts its securities related business through its wholly owned subsidiary, TNCP, LLC, member FINRA/SIPC.
About Scout Valuations LLC:
Scout Valuations, a wholly owned subsidiary of TrueNorth, is fully dedicated to business valuation. We provide thorough, independent valuation analyses together with superior client service and responsiveness. Our analyses combine a detailed understanding of the business, industry and economic context, with the insight to address complex valuation issues regarding your business.