TrueNorth Advises Enoch, a Residential Services Company, on its sale to McKinney Capital
Stamford, CT – January 31, 2022: TrueNorth Capital Partners LLC is pleased to announce that its wholly-owned subsidiary, TNCP, LLC ("TrueNorth") acted as exclusive M&A advisor to Enoch Electric, LLC ("Enoch" or the "Company"), on its sale to McKinney Capital in partnership with Enoch founder Selim (Miles) Hicsonmez.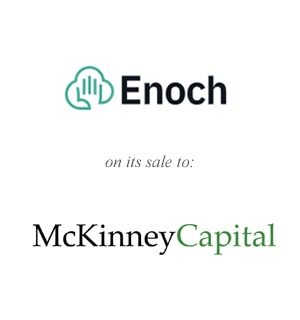 Enoch is a rapidly growing provider of HVAC, plumbing and electrical maintenance, repair and replacement services to residential customers across the Dallas-Fort Worth market. Founded by Mr. Hicsonmez in 2016, the Company offers residential customers high-quality services and value through unique customer acquisition capabilities that have enabled the company to enjoy a compounded annual revenue growth rate (organic) of 65% over the past two years.
"We could not be more excited to partner with McKinney Capital," said Mr. Hicsonmez, who will continue as CEO and will remain a significant shareholder in the Company. Mr. Hicsonmez continued: "Our team has always been focused on delivering quality service, earning customers' trust and delivering results, and McKinney's shared-approach to operational excellence and decades-long experience in field services will help us expand on that mission by supporting our expansion into new markets. After evaluating multiple options, it was clear that we found kindred spirits in McKinney Capital, whose values align perfectly with ours, from our vision for customer experience to our view on company culture. Furthermore, McKinney Capital's expertise in add-on acquisitions will be invaluable as we look to partner with other residential service providers whose growth can be accelerated by our unique customer acquisition capabilities. I'm truly excited to continue investing in the business alongside the McKinney team."
Based in Birmingham, Alabama, McKinney Capital is a private, family-owned investment firm that invests exclusively in field services companies. Through focus, value-added ownership, and a flexible time horizon, McKinney Capital and the McKinney family have developed an outstanding track record building field services businesses across multiple verticals employing over 1,000 team members. Enoch is the latest example of building upon this legacy of actively partnering with outstanding management to help drive scale, operational depth and accelerated growth.
"We're thrilled to partner with Miles and the entire Enoch team to support the growth efforts of an already thriving organization," said McKinney Capital's CEO Eric Essary. "Enoch has built a differentiated service model and culture, giving it a competitive advantage that can be leveraged in other markets. We are eager to impart our experiences in the field services industry and to provide the resources to support organic growth as well as strategic acquisitions. Miles and the Enoch team have built a great company, and we look forward to working with them to maximize the business's potential."
David Reilly, Managing Director at TrueNorth, led the TrueNorth team on the transaction. Mr. Reilly commented: "The strong leadership provided by Miles has positioned the company for tremendous success. The partnership with McKinney Capital is a natural fit; they understand the importance of honoring Enoch's legacy, share similar vision and values, and have relevant extensive industry experience. It was our privilege to help Miles and the Enoch team achieve their objectives."
Mr. Hicsonmez added: "We were very fortunate to have TrueNorth's leadership throughout, as they generated compelling options from both strategic and financial partners for us to consider, and their navigation through a dynamic process with multiple parties was instrumental in helping us achieve our goals. Dave and his team owned the deal process from day one and provided around-the-clock support and senior-level attention at all times. Combined with their depth of knowledge and M&A experience in our industry, their financial, deal-structuring and negotiating expertise, objective advice and unwavering commitment enabled us to pursue an accelerated process and drive to an outcome that exceeded our highest expectations. We could not be more pleased that TrueNorth helped us do so with an ideal partner in McKinney Capital."
Inquiries about the transaction can be directed to TrueNorth at the contact information provided below:
David Reilly, Managing Director
Stamford Office
Phone: (203) 817-0282
E-mail: dreilly@truenorthcp.com
About TrueNorth Capital Partners LLC
TrueNorth provides advisory services to companies seeking advice for middle-market M&A and financing transactions. With offices in Stamford CT, Charleston SC, Central, NJ, Naples, FL, Minneapolis, MN, Kansas City, KS and London, UK, TrueNorth is a boutique investment bank comprised of senior bankers providing a full complement of financial advisory services. Our focus on the middle-market enables us to provide independent, value-added advisory services to privately held middle-market companies, private equity and family office groups and corporate clients, both domestic and international, across a broad range of industries. TrueNorth conducts its securities related business through its wholly owned subsidiary, TNCP, LLC, member FINRA/SIPC. For more information, visit: truenorthcp.com
About Scout Valuations LLC
Scout Valuations, a wholly owned subsidiary of TrueNorth, is fully dedicated to business valuation. We provide thorough, independent valuation analyses together with superior client service and responsiveness. Our analyses combine a detailed understanding of the business, industry and economic context, with the insight to address complex valuation issues regarding your business. For further information, visit: truenorthcp.com/scout-valuations