TrueNorth Advises Doug's Service Company, a Residential HVAC Company, on its sale to Air Pros USA
Stamford, CT – February 28, 2022: TrueNorth Capital Partners LLC is pleased to announce that its wholly-owned subsidiary, TNCP, LLC ("TrueNorth") acted as exclusive M&A advisor to Doug's Service Company ("Doug's Service Company" or the "Company"), on its sale to Air Pros USA.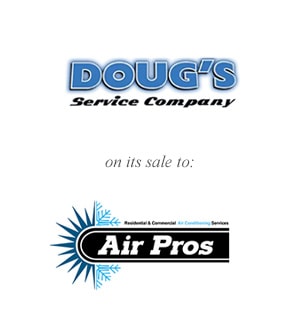 Doug's Service Company is a leading HVAC and home services business that has been proudly serving home and business owners in Lafourche Parish, Louisiana since 1988. Doug's Service Company will continue operating under its existing brand name.
Doug's Service Company provides heating and air conditioning, plumbing, electrical, refrigeration and generator services. The acquisition adds to the Air Pros USA's growing national footprint. Its first acquisition in Louisiana, Air Pros USA will now operate in eight states and more than a dozen metro areas including Miami, Orlando, Dallas, Atlanta, Colorado Springs, Mobile and Spokane.
"Doug's Service Company's strong market presence and one stop for all home service needs will bring added value to Air Pros USA. The Company's positive reputation in Louisiana makes them a perfect fit to join our family as we continue to expand and acquire additional HVAC/home service companies across the U.S.," said Anthony Perera, founder of Air Pros USA. "They are innovative and on top of the latest technology solutions with great customer satisfaction."
"We are thrilled to join the Air Pros USA family as we continue to grow Doug's Service Company throughout the region," said Jeff Tauzin, Owner of Doug's Service Company. "Air Pros USA is nationally recognized for its rapid growth as well as its quality service and dedicated technicians. We knew Air Pros USA would be a great fit for us, as they share the same culture and commitment to 'wow' their customers and take care of their employees."
David Reilly, Managing Director at TrueNorth, led the TrueNorth team on the transaction.
Mr. Tauzin further commented: "It was a pleasure to work with TrueNorth, who was instrumental in helping us achieve a successful outcome. Dave and his team provided around-the-clock support and senior-level attention at all times. Combined with their depth of knowledge and M&A experience in our industry, TrueNorth's financial, deal-structuring and negotiating expertise, objective advice and unwavering commitment enabled us to drive to a closing with an ideal partner in Air Pros USA."
Inquiries about the transaction can be directed to TrueNorth at the contact information provided below:
David Reilly, Managing Director
Stamford Office
Phone: (203) 817-0282
E-mail: dreilly@truenorthcp.com
About TrueNorth Capital Partners LLC
TrueNorth provides advisory services to companies seeking advice for middle-market M&A and financing transactions. With offices in Stamford CT, Charleston SC, Central, NJ, Naples, FL, Minneapolis, MN, Kansas City, KS and London, UK, TrueNorth is a boutique investment bank comprised of senior bankers providing a full complement of financial advisory services. Our focus on the middle-market enables us to provide independent, value-added advisory services to privately held middle-market companies, private equity and family office groups and corporate clients, both domestic and international, across a broad range of industries. TrueNorth conducts its securities related business through its wholly owned subsidiary, TNCP, LLC, member FINRA/SIPC. For more information, visit: truenorthcp.com.
About Scout Valuations LLC
Scout Valuations, a wholly owned subsidiary of TrueNorth, is fully dedicated to business valuation. We provide thorough, independent valuation analyses together with superior client service and responsiveness. Our analyses combine a detailed understanding of the business, industry and economic context, with the insight to address complex valuation issues regarding your business. For further information, visit: truenorthcp.com/scout-valuations.