TrueNorth Advises Spartan Aerospace on its sale to Enjet Aero
Stamford, CT – March 17, 2022: TrueNorth Capital Partners LLC is pleased to announce that its wholly-owned subsidiary, TNCP, LLC ("TrueNorth") acted as exclusive M&A advisor to Spartan Aerospace LLC ("Spartan Aerospace" or the "Company"), on its sale to Enjet Aero, LLC ("Enjet Aero").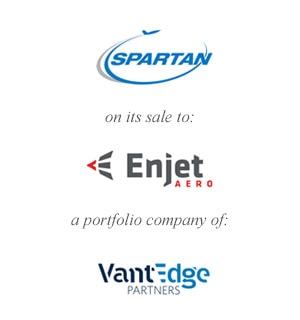 Founded in 1965, and located in Manchester, CT, Spartan Aerospace manufactures machined aeroengine components, sheet metal stampings, brackets, fabrications, and assemblies for the commercial and defense aerospace industries, serving both original equipment manufacturers (OEM) and maintenance repair operations (MRO).
Spartan Aerospace, its 70,000 square foot facility and 80+ employees, will become the latest addition to Enjet Aero's expanding set of capabilities focused on providing the aeroengine OEM's with the capabilities and capacity needed to satisfy their near-term recovery constraints as well as their long-term strategic solutions to their supply base challenges. The skilled and talented team of industry experts from Spartan Aerospace will also add to the existing bench strength of Enjet Aero, providing a unique set of production capabilities and customer platforms to further enhance the breadth of products and solutions Enjet Aero offers its customers. The combined capabilities and new synergies make Spartan Aerospace an attractive and strategic fit for Enjet Aero. Spartan Aerospace co-founder Allan Lehrer will continue to lead the Enjet Aero Manchester operation.
"The Enjet Aero organization has a proven track record of success in the aeroengine component market, and we're excited to be joining a team that is solely focused on working, investing, and growing in that sector of the aerospace and defense market. We've known the Enjet Aero leadership team for quite some time and think they will be the perfect partner to help grow our operations in the future," said Allan Lehrer, President of Spartan Aerospace.
The Spartan Aerospace acquisition will support Enjet Aero's ongoing strategy of being a world-class aeroengine component manufacturer for the industry and delivering on its promise of being ready, willing, and able to meet the expanding strategic needs of their customers.
"A large part of our strategic plan is focused on growing our customer base and platforms by expanding our capabilities and increasing our product offerings. The addition of Spartan Aerospace will help us achieve this with greater capacity and a robust set of production capabilities that include expanding Enjet's proficiencies in highly complex fabricated and machined assemblies," said Bruce Breckenridge, Chief Executive Officer for Enjet Aero. "I'm thrilled to see our team grow with the addition of Spartan's talented workforce and welcome them to the Enjet family."
Fred Rossetti, Managing Director at TrueNorth, led TrueNorth on the transaction. He was supported by a TrueNorth team including Jeff Gaynor, Managing Director and Ani Vajjah, Senior Associate.
Mr. Lehrer further commented, "We are very pleased with our choice of TrueNorth as the advisor to market, negotiate, and bring our transaction to closing. TrueNorth's guidance through this process has been immeasurable and their attention to detail greatly appreciated. They truly understood our goals and the type of organization we were desiring as an acquirer."
Barry Feigenbaum of Rogin Nassau LLC served as the Company's primary legal advisor and Robert Gerardi of Nicola Yester & Company PC provided accounting support.
Inquiries about the transaction can be directed to TrueNorth at the contact information provided below:
Fred Rossetti, Managing Director
Stamford Office
Phone: (203) 817-0276
E-mail: frossetti@truenorthcp.com
About Enjet Aero, LLC
Enjet Aero, headquartered in Overland Park, KS, is an engine component manufacturer of complex machined and fabricated parts and assemblies for commercial and military aircraft engine OEM's. Enjet Aero is comprised of Enjet Aero Advanced Manufacturing, Enjet Aero Bloomfield, Enjet Aero Dayton, Enjet Aero Erie, Enjet Aero Malden, Enjet Aero New Britain, and Enjet Aero Terre Haute. Enjet's strategy is to be the supplier of choice for aircraft engine OEM's during this period of recovery and beyond by offering a wide breadth of capabilities, capacity and resources to its customers who come to expect world-class performance in the form of quality and on time delivery.
About Rogin Nassau LLC
Rogin Nassau is located in Hartford, Connecticut and specializes in representing companies and entrepreneurs in variety of industries including manufacturing, real estate development, construction, retail, health care, banking and services. The firm has expertise in a wide range of areas including commercial transactions, real estate, litigation, creditors rights, lending and trust and estates. Established in 1948, lawyers from Rogin Nassau represent clients throughout Connecticut and the Northeast.
About TrueNorth Capital Partners LLC
TrueNorth provides advisory services to companies seeking advice for middle-market M&A and financing transactions. With offices in Stamford CT, Charleston SC, Central, NJ, Naples, FL, Minneapolis, MN, Kansas City, KS and London, UK, TrueNorth is a boutique investment bank comprised of senior bankers providing a full complement of financial advisory services. Our focus on the middle-market enables us to provide independent, value-added advisory services to privately held middle-market companies, private equity and family office groups and corporate clients, both domestic and international, across a broad range of industries. TrueNorth conducts its securities related business through its wholly owned subsidiary, TNCP, LLC, member FINRA/SIPC.
About Scout Valuations LLC
Scout Valuations, a wholly owned subsidiary of TrueNorth, is fully dedicated to business valuation. We provide thorough, independent valuation analyses together with superior client service and responsiveness. Our analyses combine a detailed understanding of the business, industry and economic context, with the insight to address complex valuation issues regarding your business.