TrueNorth Advises Precision Aerospace on its sale to Essex Industries, Inc.
Stamford, CT – October 24, 2022: TrueNorth Capital Partners LLC is pleased to announce that its wholly-owned subsidiary, TNCP, LLC ("TrueNorth") acted as exclusive M&A advisor to Precision Aerospace, Inc. ("PAI" or the "Company"), on its sale to Essex Industries, Inc. ("Essex"). Founded in 1969, PAI has been a family owned and operated business with a talented and committed workforce whose culture and values closely align with those of Essex.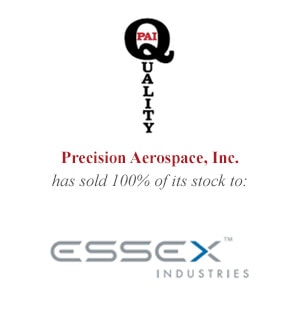 PAI, located in Seymour, CT, provides precision machined components to aerospace and defense companies, which support every major fixed-wing aircraft and rotorcraft program with pressure sensors, pressure transducers and oil debris monitoring technology. Precision Aerospace also manufactures critical components supporting the supply of semi-conductors.
Founded in 1947, Essex Industries is a leading supplier to the Aerospace and Defense market, providing platform controls, aircraft components, emergency breathing and liquid oxygen equipment. The company employs 400 people in its St. Louis, MO, Milford, CT and Huntington Beach, CA facilities.
The acquisition of PAI supports Essex' business strategy of further expanding its aerospace and defense product portfolio while enhancing its capability in the northeast region. According to Evan Waldman, Essex CEO, "Essex and PAI share common values, customers and capabilities. We are excited to expand our product offering to our customers and continue to provide exceptional customer service." PAI will operate in Connecticut as Essex Industries.
Jeff Gaynor, Managing Director at TrueNorth, led TrueNorth on the transaction. He was supported by a TrueNorth team including Fred Rossetti, Managing Director, Ani Vajjah, Senior Associate and Mindy Piroonhapat, Analyst.
Inquiries about the transaction can be directed to TrueNorth at the contact information provided below:
Jeff Gaynor, Managing Director
Stamford Office
Phone: (203) 817-0277
E-mail: jgaynor@truenorthcp.com
About TrueNorth Capital Partners LLC
TrueNorth provides advisory services to companies seeking advice for middle-market M&A and financing transactions. With offices in Stamford CT, Charleston SC, Central, NJ, Naples, FL, Minneapolis, MN, Kansas City, KS and London, UK, TrueNorth is a boutique investment bank comprised of senior bankers providing a full complement of financial advisory services. Our focus on the middle-market enables us to provide independent, value-added advisory services to privately held middle-market companies, private equity and family office groups and corporate clients, both domestic and international, across a broad range of industries. TrueNorth conducts its securities related business through its wholly owned subsidiary, TNCP, LLC, member FINRA/SIPC.
About Scout Valuations LLC
Scout Valuations, a wholly owned subsidiary of TrueNorth, is fully dedicated to business valuation. We provide thorough, independent valuation analyses together with superior client service and responsiveness. Our analyses combine a detailed understanding of the business, industry and economic context, with the insight to address complex valuation issues regarding your business.